Marinade and then bake – this asian marinated chicken is that easy and THAT delicious!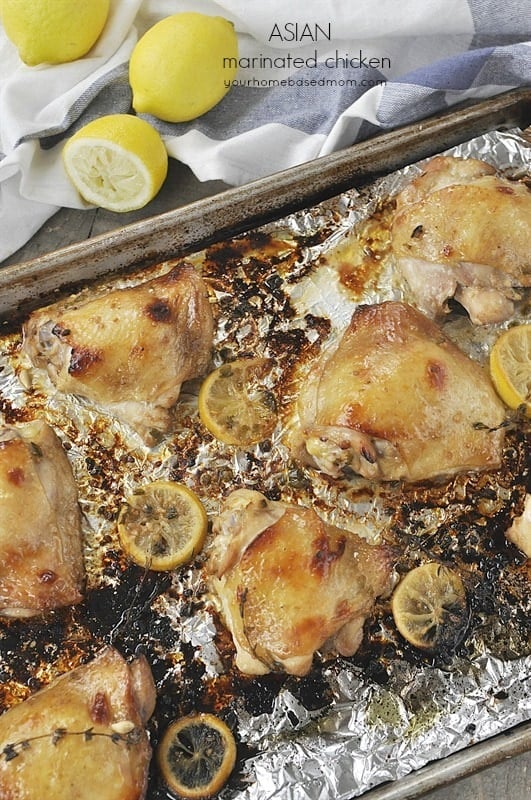 I had this chicken marinating the other day and had planned to serve it for dinner. Some friends called and invited us to go out and try a new restaurant with them and I just couldn't pass up the opportunity so I decided we would just find someone to share the dinner in my oven with. Not too soon after, my husband received a text from one of our neighbors who was at the doctor with her daughter getting an asthma treatment. Well, I knew who was getting dinner that night!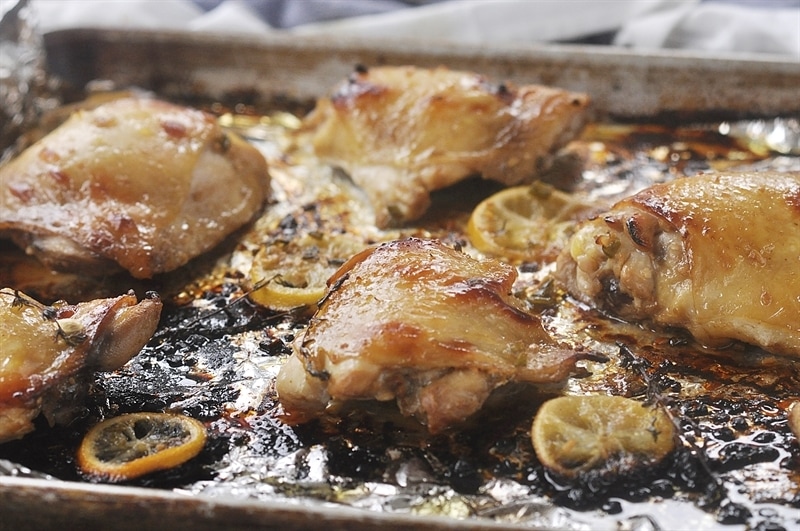 This Asian Marinated Chicken is a delicious, under 30 minute dinner that is perfect for a busy week night. The only trick is, you have to remember to put the chicken in to marinade the night before! Then all you have to do it place it on a foil lined baking pan and bake!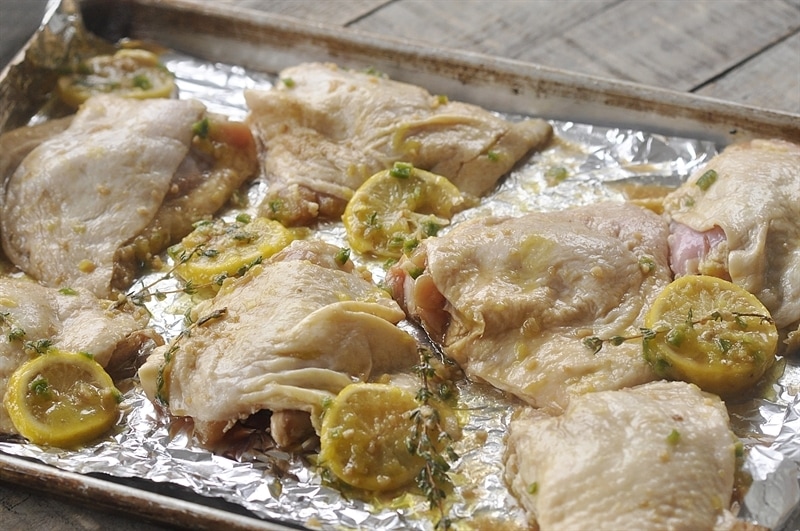 I used chicken thighs for this recipe. I love cooking with chicken thighs because thigh meat is so moist and flavorful but I know there are those who don't care for them. This recipe is just as good made with chicken breasts if you prefer those over thighs. Just be sure to get breasts with the skin on. You want the skin, trust me.
The chicken marinates over night in a delicious combination of asian flavors, including fish sauce, soy sauce and ginger but it also has some flavor from some jalapenos and lemons!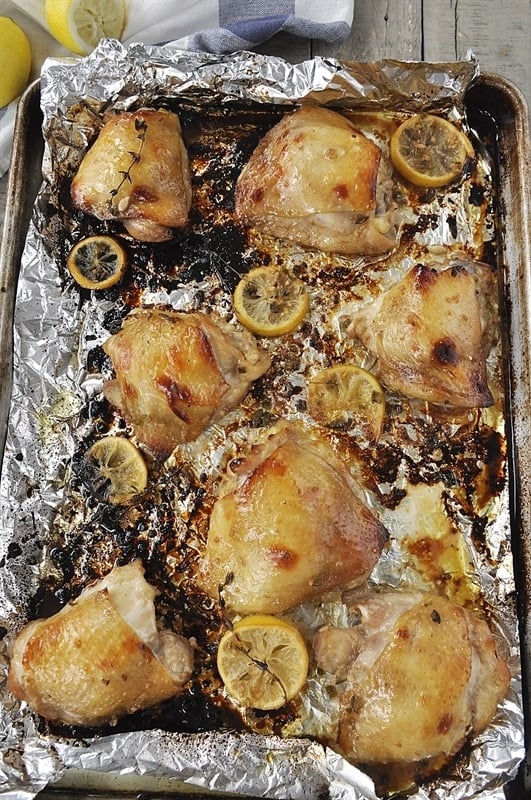 I marinated the chicken for 24 hours and I recommend a minimum of 12 hours. You want all that wonderful flavor to have an opportunity to get into that chicken. Be sure and put the lemon slices and springs of thyme that are in the marinade onto the pan too. They will add some additional flavor and it just looks pretty!
After it's done baking squeeze some additional lemon juice over the top of the chicken.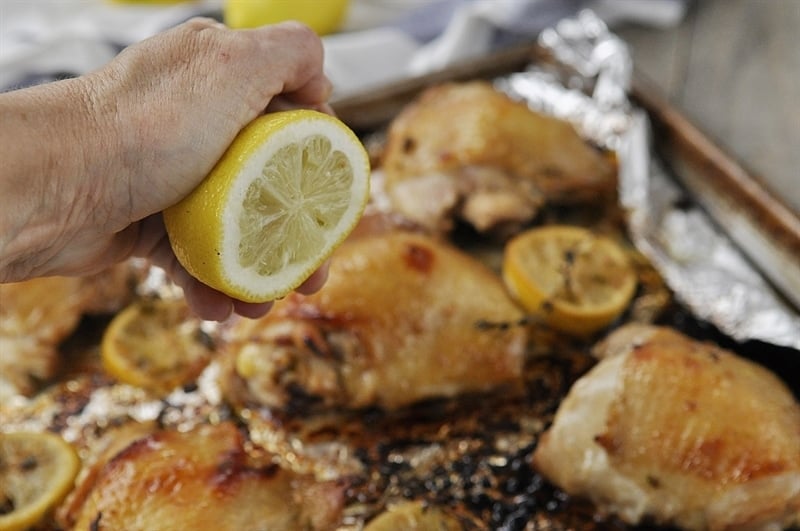 I shared this chicken with a neighbor who had had a rough day with four little ones and her son told his mother that "Leigh Anne's chicken is so soft… I like yours too, but differently." Such a diplomat!!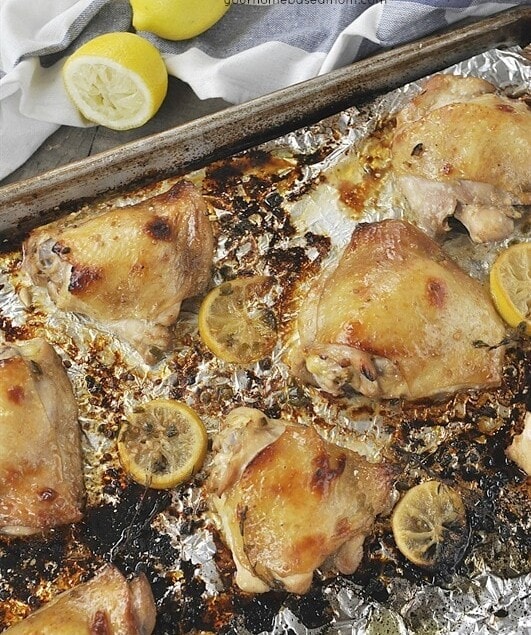 Asian Marinated Chicken
Ingredients
5 tsp garlic coarsely chopped
2 jalapeno peppers seeded, thinly sliced
1 tsp ginger minced
1 cup olive oil
½ cup reduced-sodium soy sauce
¼ cup apple cider vinegar
¼ cup sugar
3 tablespoons fish sauce
1 tablespoon sea salt
2 lemons sliced, plus wedges for serving
6 sprigs thyme
8 skin-on bone-in chicken thighs (about 3½ lb.)
Instructions
Whisk garlic, chiles, ginger, oil, soy sauce, vinegar, sugar, fish sauce, and salt in a medium bowl until sugar and salt dissolve.

Add lemon slices and thyme. Place marinade and chicken in a large resealable plastic bag. Turn to coat, and chill at least 12 hours, up to 24 hours.

Heat oven to 450°. Remove chicken from marinade, shaking off excess, and place, skin side up, on a rimmed baking sheet. Cook until chicken is cooked through, about 25–30 minutes.

Serve chicken with lemon wedges for squeezing over.