I had a Girl Weekend this past weekend.  Yes, that is singular. Girl.   Just me.  My husband was in Utah with the kids (I tried not to be too jealous since this was his birthday present from the kids.)
He went to attend the "never to be mentioned again, soon to be forgotten" football game.
When you are an empty nester and your husband goes out of town that leaves just you home alone.  I LOVED IT!   A Girl Weekend!  For those of you with little ones at home who hate it when your husband leaves home I totally get it – but some day you will love it.
I decided there were two things I was not going to do this weekend – cook and clean.  And I didn't.  Meals consisted of leftovers, takeout and frozen pizza! And believe me I didn't clean, in fact I did the total opposite.  I made a bunch of messes!
I spent the weekend working on lots of fun projects.  These projects required trips to three different Goodwills (and one Goodwill twice), two trips to Home Depot, and a few trips to the craft store and the Dollar Store.
Today I am be guest posting over at Kristen Duke Photography.  I am part of her Decorating with Portraits series she has been doing all month.  If you want to be inspired be sure and check out her blog!
So before you get to see the fun things I've been putting together for my guest post, do you want to see the messes I made getting ready?
This is what the garage looked like when my husband arrived home from the airport.  I did prepare him so he didn't have a heart attack on me!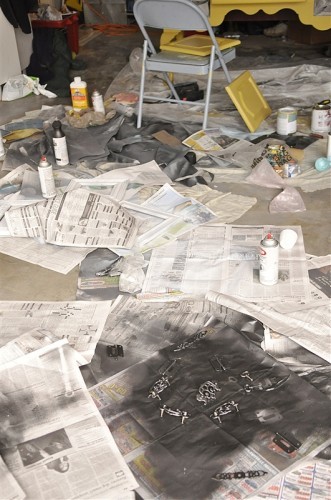 Let's just say there was a lot of spray paint being used as well as my first adventure in painting furniture!
Good thing I wasn't doing any cooking because there was no room to eat at my kitchen table.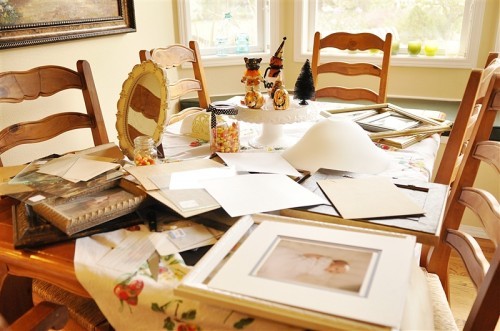 If you are looking for any picture frames at Goodwill in my area, don't bother.  I bought them all!
And then the craft room (formerly known as the Boy's Room)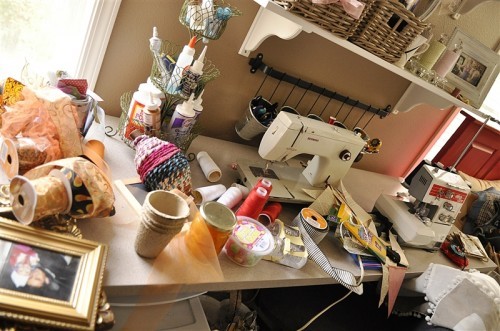 Hopefully the boys aren't coming home anytime soon because this is what their beds look like. That is another advantage of being an empty nester, you end up with a bunch of empty bedrooms that you can make a mess in and nobody is around to see it!!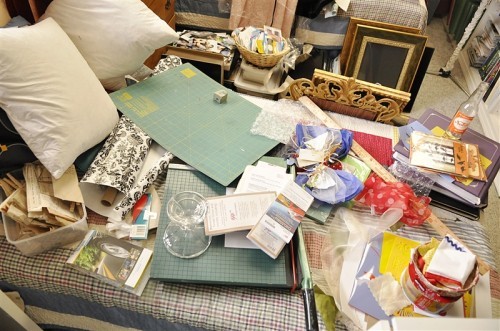 Yes, I made a lot of messes but I had fun!  So head on over to Kristen's blog and check me out!  Be sure and say hi!!
Stay Updated!
Need more recipes and creative ideas? Sign up and get a FREE copy of my ebook! Do you think your friends would love this too? Please share my blog with them. Thanks!