A great step by step tutorial on how to create your own paper pinwheels.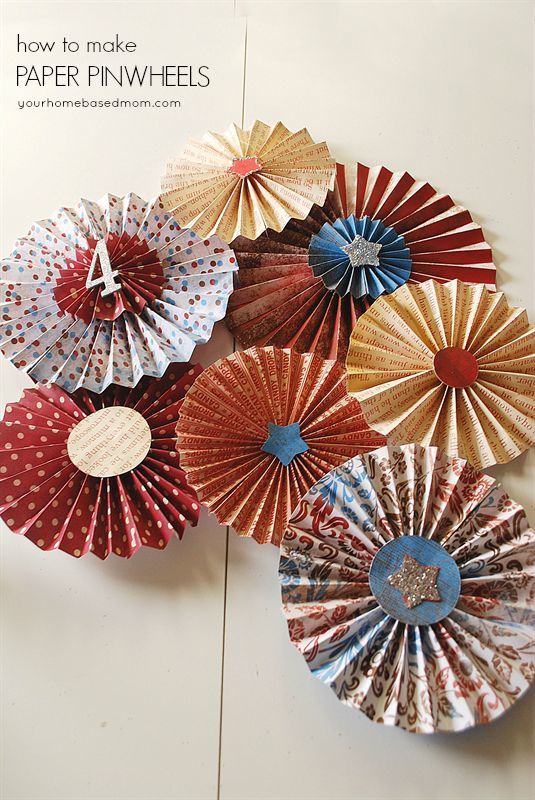 All it did was rain today here in Portland. Rain, rain go away!
I have a million things I need to be doing – planning and preparing for an 80th birthday lunch for my mom this week, shopping for food for a 50 person family reunion which starts on Thursday for 5 days but did I do any of that today? No!
Instead I decided to get crafty. I think it was total avoidance behavior but it sure was fun. I made a quick trip to Craft Warehouse to pick up some patriotic papers and then I created these….
Aren't they fun – patriotic paper pinwheels.
They are super easy to make and fun. All you have to do is fold paper and glue. I followed this tutorial for paper pinwheels. I was inspired by the cute ones Ashley made for the cute baby shower she put on.
I used 12 x 12 scrapbook paper and cut it into strips of varying sizes – between 3 and 4 inches. I used about 2 1/2 to 3 lengths for each size. I just taped the strips together and folded them like an accordian.
Create a circle with it and then push it down and glue!
Use stars, circles or another smaller pleated pinwheel in the center to help hold it flat. I also got out the glitter and had fun with it!
I'm not quite sure what I am going to do with them yet. I may hang them from somewhere or maybe put them on sticks and put them in with some flowers. Any other ideas? Whatever I do with them I'm sure they will look great at our neighborhood barbecue on Sunday.
I'll figure out something but aren't they cute!? So if you have nothing to do tomorrow (just like me) and it's raining at your house get your craft on and make some fun 4th of July pinwheels. I also picked up some fun papers to make a set for my mom's birthday luncheon. I am doing a vintage birthday luncheon for her and I can't wait to share with you all the details. It is coming together great and is going to be so pretty!!!