Put together a delicious and easy 30 minute dinner with this recipe for Pan Fried Chicken It's a bit addicting!!
Some other favorite recipes that use chicken thighs include Teriyaki Chicken, Oregano Chicken and Crock Pot Butter Chicken.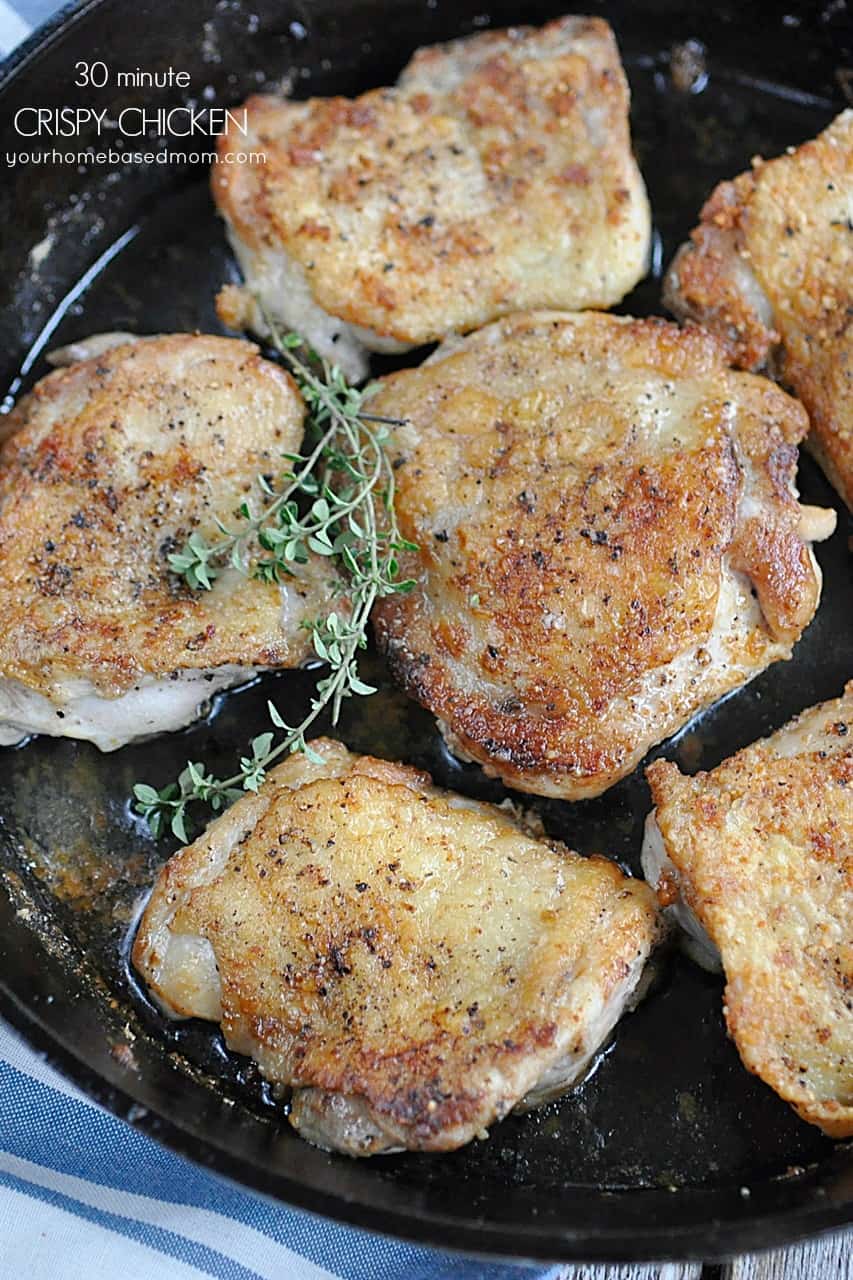 Pan Fried Chicken Thighs
A delicious dinner in 30 minutes? Yes, it's doable with this 30 minute Pan FriedChicken Recipe.  All you need is some chicken, butter, salt and pepper and a cast iron pan.  This recipe really does work best in a cast iron pan, so if you don't have one you should get yourself one!  A cast iron pan gets really hot and that is what you need to create the yummy, crispy skin on the chicken.  High heat baby!
The prep of the chicken takes almost as long as the actual cooking. I use chicken thighs with the skin on. The skin is very important. Do not buy skinless chicken thighs. Remove the chicken from the package and then use a paper towel to dab it dry.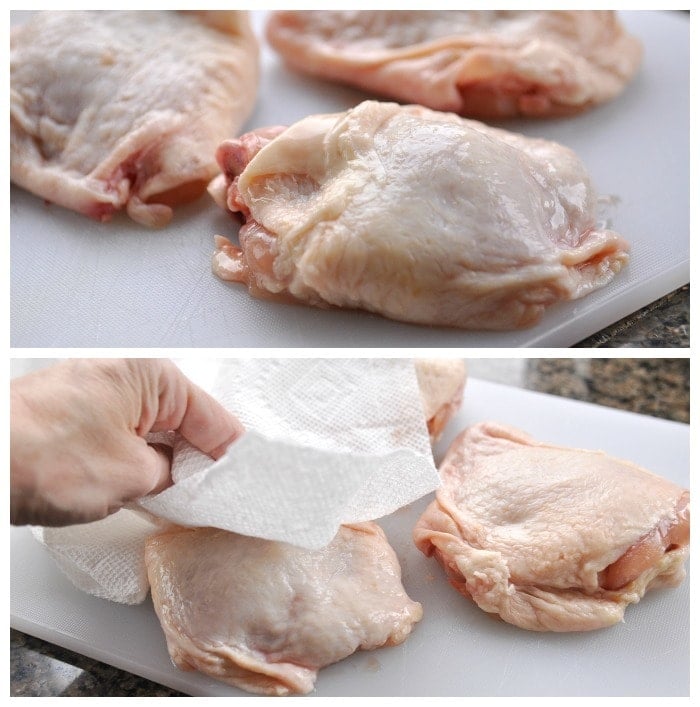 How to Remove the Bone from a Chicken Thigh
The only way I have found to buy chicken thighs with the skin on is also with the bone in.  You want to remove the bone.  This is not hard to do. You just need a nice pair of kitchen shears.
Use your fingers to pull away as much of the meat as you can from the bone and then use your kitchen shears to cut away the remaining skin underneath the bone.
Trim off any large pieces of skin that extend beyond the thigh. Be sure and leave the skin that is attached to the thigh there.  Trust me, you want as much of that yummy crispy skin as you can get.
How to Pan Fry Chicken
Once the bone is removed, heat up your cast iron skillet and get it nice and hot.  
Add in 1 tablespoon of butter and let it melt.  Don't let it brown or burn.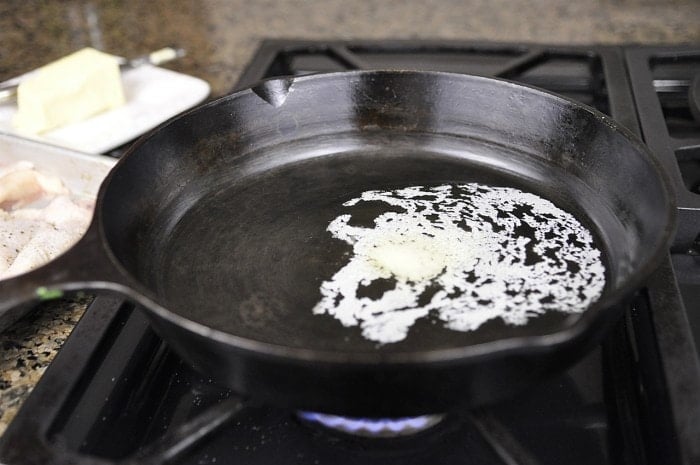 While the pan is heating up, salt and pepper your chicken. Be generous. The salt makes the crispy skin even better.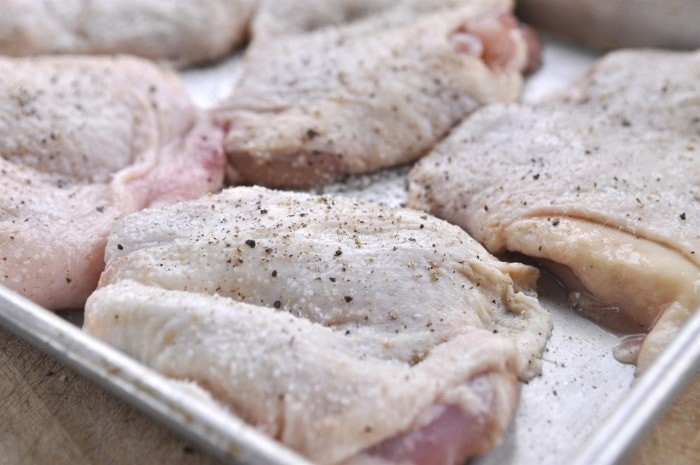 Place your chicken into your hot pan with the skin side down.
Reduce your heat to medium hot and allow the chicken to cook for about 9-10 minutes or until the skin is nice and crispy, golden brown.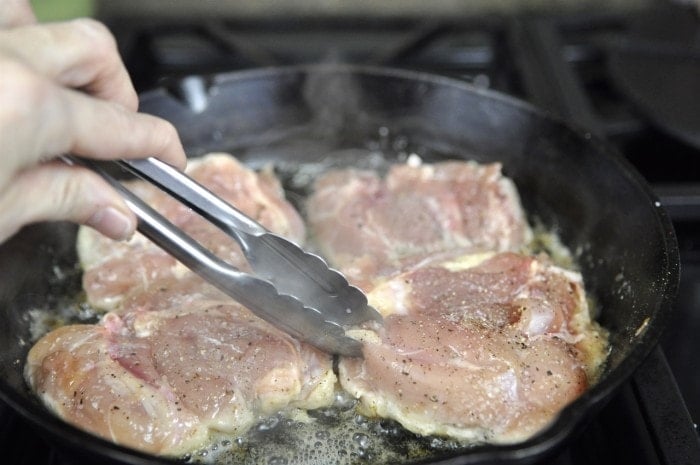 About half way through the cooking process (skin side down) rotate the chicken 180 degrees in the pan.
Flip the chicken and cook the other side for about 7 minutes or until meat is cooked through.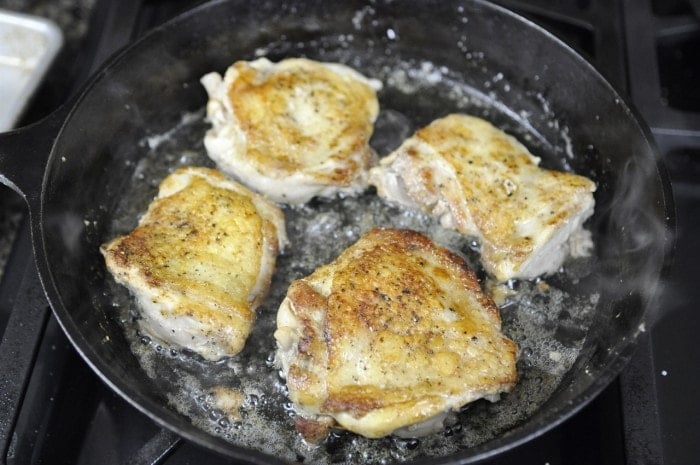 You are now ready for a yummy, delicious, crispy chicken dinner.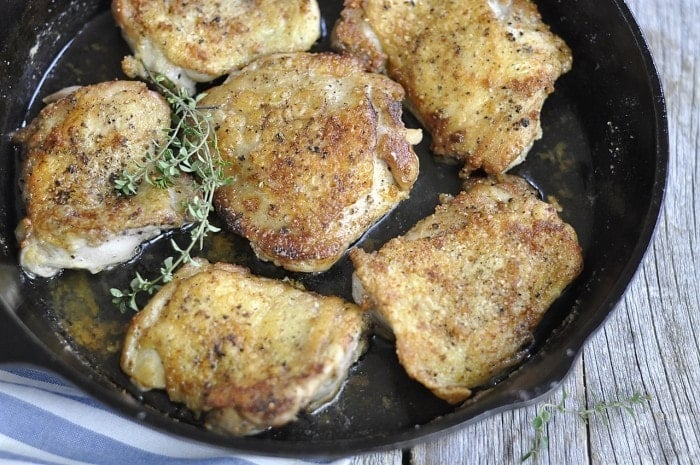 Pan Seared Chicken
I love this recipe and we make it quite often at our house.  I keep chicken thighs in the freezer and it is a great last minute delicious dinner when I need something quick.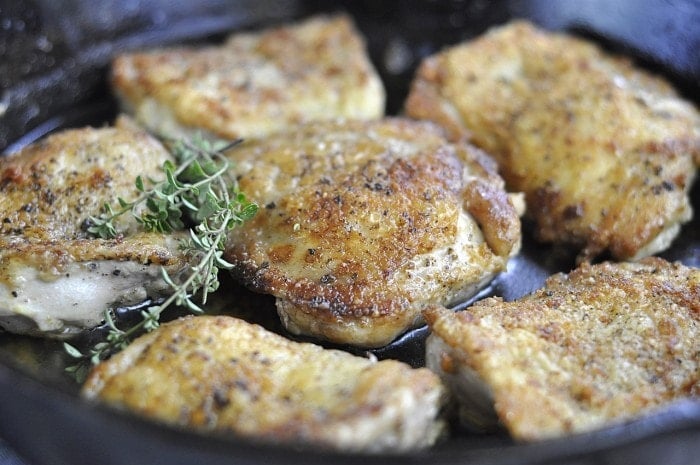 For those of you who may be non skin eaters. Trust me on this one, you are going to want to eat the skin!!
For all my other favorite kitchen products and tools visit my Amazon Store.
Did you know I wrote a cookbook? Check out the Holiday Slow Cooker Cookbook for 100 delicious recipes.
Be sure and follow me over on You Tube for weekly cooking demos.
Pan Fried Chicken Recipe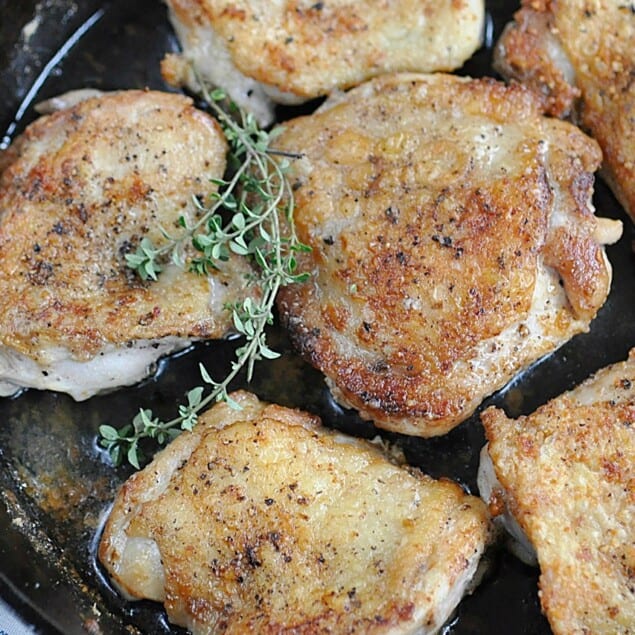 Pan Fried Chicken
Just thirty minutes is all you need to make this delicious cast iron skillet pan fried chicken
Ingredients
6 chicken thighs with skin bone removed
salt and pepper
3 Tbs butter
Instructions
Using a paper towel, dry off your chicken thighs.

Salt and pepper generously.

Heat up butter in cast iron pan over high heat.

Place chicken thighs into the pan skin side down and reduce heat to medium high.

Cook for about 10 minutes until the skin is golden brown and crispy. Rotate the thighs halfway through this cooking time 180 degrees.

Flip over the thighs and cook for another 8-10 minutes skin side up or until meat is cooked through.

Remove from heat and place on a paper towel to remove some of the grease. Enjoy!
Nutrition Facts:
Calories: 298kcal (15%) Protein: 18g (36%) Fat: 24g (37%) Saturated Fat: 8g (50%) Cholesterol: 126mg (42%) Sodium: 137mg (6%) Potassium: 231mg (7%) Vitamin A: 265IU (5%) Calcium: 11mg (1%) Iron: 0.8mg (4%)
* Disclaimer: All nutrition information are estimates only. Read full disclosure here.