{Giveaway closed}
Congratulations to Comment #32 Susan who has won the giveaway!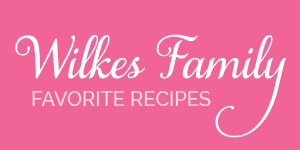 I was fortunate to grow up in a family where we ate dinner together every night, at least when my father wasn't traveling out of town on business. My dad arrived home from work the same time every day and dinner was usually about 5:30p.m. I never thought that eating together as a family every night would become the exception rather than the rule.
The only distraction we had to family dinner hour was the TV – no cell phones, computers etc. I do remember the occasional meal served on the TV trays around the TV but usually dinner happened around the table. We live in a different world now and distractions are now the norm. I am excited to join together with J.M. Smucker and The Power of Family Meals  today to talk about and promote the power and importance of eating together as a family.
When our children were young and growing up eating dinner together as a family was also a priority.  Did it happen every night?  Of course not, but it happened as much as possible and those who were home gathered together around the table (not the TV or the computer) to have dinner together.
There's no social network more important or engaging than your family.
And there's no better place to disconnect from devices and reconnect with each other than at the dinner table. 
As part of their Disconnect to Reconnect Campaign  The Power of Family Meals is asking each family to take the pledge to eat dinner together at least once a week without electronic devices and screens.  Sundays seem to be a good day to do this.  If you'd like to take the pledge along with me click on over to Disconnect to Reconnect.
So many wonderful things happen around the family dinner table – discussions, questions are answered, stories are told and bonds are strengthened.  Things that don't happen in 140 characters or less.
I have found that one of the best and easiest ways to make the family dinner happen is to know what is for dinner.  To have a plan.  Driving through the drive together does not constitute a family meal in my book!
Each Saturday I post a suggested Meal Plan to help you make meal planning easier and better.   Today I want to share with you a roundup of some of the Wilkes Family Favorite Go To Dinners.  I have shared a lot of recipes with you over the years but these recipes are the ones I have been serving to my family for years, when our kids were growing up and many times the ones they request when they come home to visit.  I hope you love them as much as we do.
But I also have a fun giveaway for you today to help make your family dinner hour easier and more fun.  Who doesn't love breakfast for dinner?  Today's giveaway is everything you need to fix Breakfast for Dinner!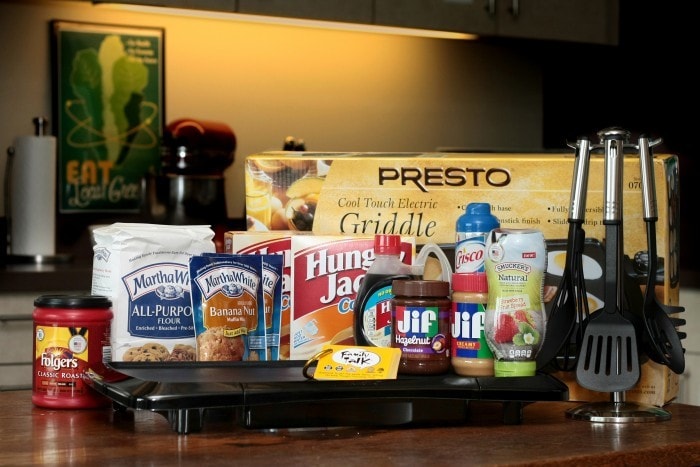 -a Presto Jumbo Cool Touch electric griddle
-a 7-piece kitchen utensil set with stand
-Family Talk conversation game
– Smucker's Strawberry Natural Squeeze jam
-JIF Creamy Peanut Putter
-JIF Chocolate Hazelnut Spread
-Folger's Classic Roast
-Hungry Jack Breakfast Syrup
-2 packs Hungry Jack Complete Pancake and Waffle Mix
-2 packs Martha White Banana Nut Muffin Mix
-Crisco No-Stick Cooking Spray
-Martha White All-Purpose Flour
To enter the giveaway just leave a comment letting me know what your family's favorite thing to have for dinner is!  Giveaway ends April 9, 2014  at midnight PST>
Here's a round up of our Family Favorite Dinners!!