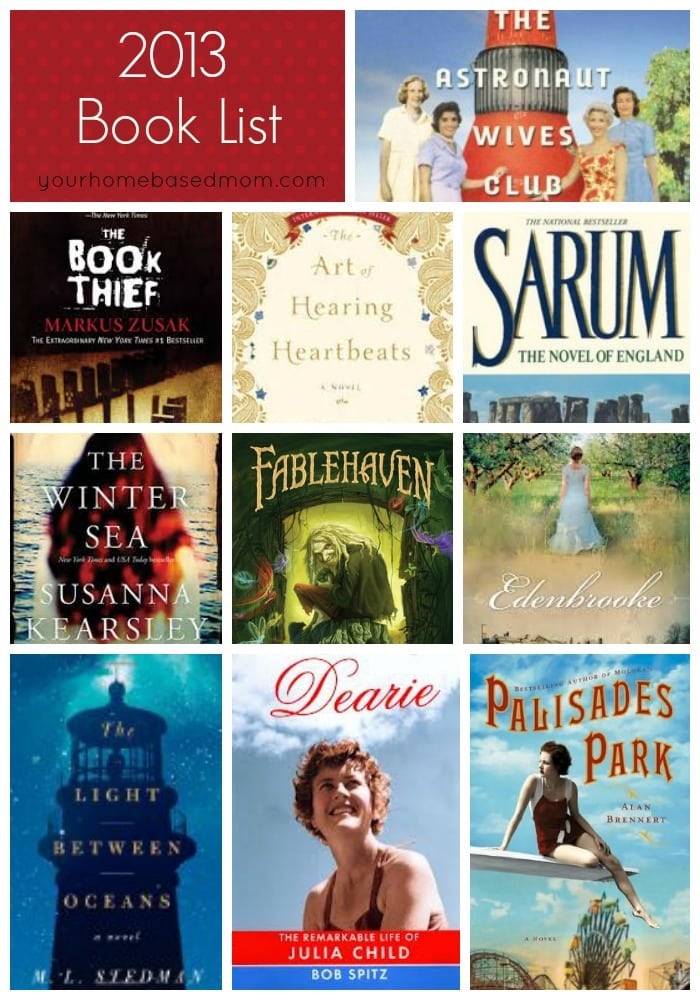 During 2013 I shared with you what I had been reading on a monthly or quarterly basis. But I decided it would be nice to have all the books I read in 2013 in one post so today I have put all those monthly lists into one long post.
janu
Each year I like to keep track of how many books I read and pick a favorite book for the year. In 2012 I read 45 books. I didn't do quite as much reading this year – only read 36. But there were some good ones! And one of the books was over 900 pages so I think that should count as 3 books!
You can see last year's list here.
As last year, I have given the books I read a rating system (1-5 stars) I think there is only one 2.5 book on this list. Those are the ones I don't recommend or didn't finish. Sometimes I don't finish a book because the language is bad or it is what I would consider R rated but sometimes I don't finish a book because I just don't like the subject matter or the story. That was the case with the 2.5 book this year. That doesn't necessary mean someone else won't love the book. I did not rate the non-fiction books I read, only the fiction. I don't give out too many 5.0. The majority of what I read falls in the 3.5-4.0 range. A book has to really wow me and make me want to read it again to get a 5.0.
There was one book to get a 5.0 rating this year and thus earns the spot as my Favorite Read of 2013. It is actually a book I have read before. Keep reading to find out what it was!
My Favorite Author of 2013 was a new one to me – Susanna Kearsley. I think I have almost read just about everything she has written and that makes me sad. I wish there were more! Her historical fiction with a touch of romance and mysticism is my favorite!
Now onto my 2013 Book List.
Disclaimer: We need to take personal responsibility for what we read and watch and we all have different standards so please be sure and check things out. Although the majority of what I read I would consider rated PG there may a few books that I have read that don't meet with your personal standards so please be a responsible reader. I don't want to offend anyone.
1. Mr. Penumbra's 24-Hour Bookstore: A Novel by Robin Sloan
(3.5 stars)
Didn't love it, didn't hate it. I almost stopped reading it but kept going and am glad I did – it got better. It is a meeting of modern technology and medieval mystery. It does get you thinking about technology and if good old fashioned books are going to one day disappear – I hope not! Love my Kindle but nothing beats an old fashion, paper book! If you enjoyed The Night Circus I think you will like this book.
2. The Chaperone by Laura Moriarty

(3.0 stars)
This is another one I was on the fence about. Set in the 1920?s this historical novel is the story of silent film star Louise Brooks who leaves Kansas as a young teenager with her chaperone. They both have their reasons for making the trip as they struggle to over come the confines of the time period they live in. The life choices they make are heavily effected by the morals of the time.
3. The Baker's Daughter: A Novel by Sarah McCoy

(3.5 stars)
Another piece of historical fiction, this one is set in Germany in 1945 during Hitler's reign of terror. The story of Elsie Schmidt who is the Baker's Daughter during this time period and hides a Jew in her closet which puts her entire family in danger. At the same time the story flashes forward to El Paso Texas, present day where Elsie now lives and a reporter Reba wants to interview Elsie and her story is unveiled. As both women's lives become intertwined, both are forced to confront the uncomfortable truths of the past and seek out the courage to forgive.
4. The Light Between Oceans: A Novel by ML Stedman

(4.5 stars)
My favorite book of the month!
The story of Lighthouse keeper Tom and his wife Isabelle are unable to have children and when a boat washes ashore their island home with a dead body and a living newborn baby there are choices to be made. They choose to keep the baby, a choice which shatters and changes lives, including their own. But it is a story of good people, tragic decisions and the beauty found in each of them.
5. Blog, Inc.: Blogging for Passion, Profit, and to Create Community Joy Deangdeelert Cho

(I don't rate
non-fiction)
I actually skimmed through this book. After having blogged for five years I was pretty familiar with most of the information in this book but still picked up a few ideas and things I can do. It is a great book for a beginning blogger or someone who might be thinking about starting a blog. I enjoyed the Q & A sessions with some of the biggest bloggers around.
6. Dearie: The Remarkable Life of Julia Child is a biography of Julia Child by Bob Spitz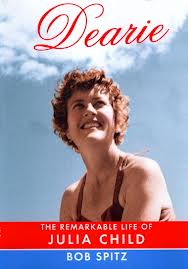 4 stars
I am a big Julia Child fan. I have previously read My Life In France about Julia Child's time in France when she began writing her cookbook and the book Julie and Julia which also has a motion picture by the same name. Dearie: The Remarkable Life of Julia Child is a biography of Julia Child and I really enjoyed it. Learning about her whole life and the amazing woman
she was. I remember watching her cook on PBS when I was a young girl! This book marks the anniversary of her 100th birthday. I listened to this book on CD and started it on a drive my husband and I made up to Gig Harbor last weekend. He listened along and really enjoyed it! (some language)
7. What the Plus! by Guy Kawasaki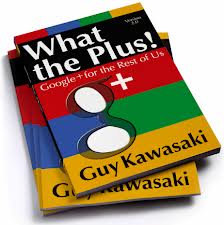 3 stars
I have decided I need to learn more about Google+ so I read the book What the Plus by Guy Kawasaki (an amazing blogger!) If you want to know more about the ins and outs of Google Plus check it out.
8. Love Does:Discover a Secretly Incredible Life in an Ordinary World by Bob Goff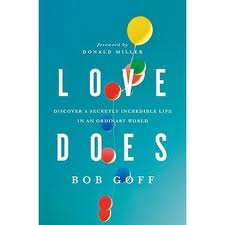 3.5 stars
The other non fiction book I read was Love Does:Discover a Secretly Incredible Life in an Ordinary World by Bob Goff. Bob has accomplished some pretty incredible things in his life – As a college student he spent 16 days in the Pacific Ocean with five guys and a crate of canned meat. As a father he took his kids on a world tour to eat ice cream with heads of state. He made friends in Uganda, and they liked him so much he became the Ugandan consul. He pursued his wife for three years before she agreed to date him. His grades weren't good enough to get into law school, so he sat on a bench outside the Dean's office for seven days until they finally let him enroll. For Bob,love is an action word – Love Does!
9. The Sweetness at the Bottom of the Pie by Alan Bradley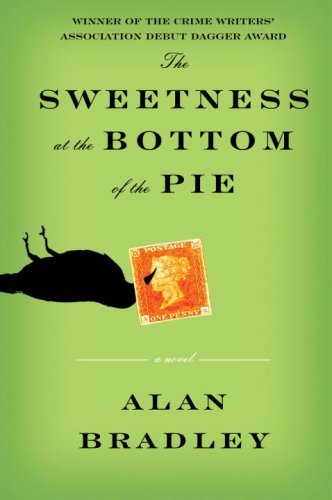 4 stars
For our Book Club in February we read The Sweetness at the Bottom of the Pie which was a delightful, fun, easy read. The first in the series of the Flavia de Luce Mysteries. I have already started in on the next one in the series. Flavia is a young aspiring chemist with a passion for poison and is intrigued by a series of inexplicable events: A dead bird is found on the doorstep, a postage stamp bizarrely pinned to its beak. Then, hours later, Flavia finds a man lying in the cucumber patch and watches him as he takes his dying breath. Flavia will delight you!
10. Mrs. Queen Takes the Train by William Kuhn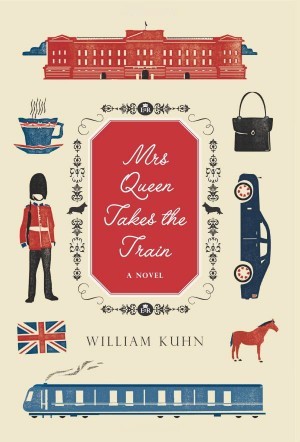 3.5 stars
My last book for February was Mrs. Queen Takes the Train ( I think it was recommended by one of you!) Honestly I almost didn't keep reading the book. I found the beginning of the book a little boring but I'm glad I stuck with it. It was a fun read. This book is a fiction piece about when a bored Queen Elizabeth strolls out of the palace in search of a little fun, leaving behind a desperate team of courtiers who must find the missing Windsor before a national scandal erupts. Just imagine Queen Elizabeth trying to figure out the internet and Facebook as well as doing yoga. (some language) I'd love to know if Queen Elizabeth has read it and what she thinks about it!!
11. The Weed that Strings the Hangman's Bag by Alan Bradley
1
4 stars
The Weed that Strings the Hangman's Bag  is the second book in the Flavia de Luce mystery series by Alan Bradley which I am thoroughly enjoying.  The first book in the series was on my February 2013 Recommended Reads list.   Flavia is an 11 year old with a passion for chemistry and a genius for solving murders.  This murder involves a puppeteer and an electrocution! I look forward to reading more of them.
12. Edenbrooke by Julianne Donaldson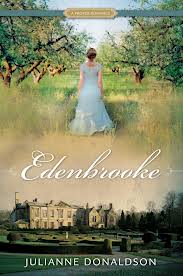 4.5 stars
A book that had been recommended by many of you. This book is for all of you Jane Austen and Georgette Heyer fans out there! Set in the Regency Era, the language is a bit easier to follow than Austen but maintains the feel of the period. A story of love and intrigue that I loved!
13. Sarum, The Novel of England by Edward Rutherfurd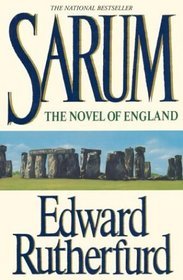 4 stars
This book follows the fortunes and losses of five families from the Stone Age through the present time.The story takes place in and around Stonehenge and Salisbury and covers 10,000 years. It's a long book. But it reads like a novel rather than a text book and definitely held my interest and attention. I especially found it fascinating as I visited the areas where the story took place on our trip. If you would like to learn more about the history of England I highly recommend the book.
14. Wolf Hall by Hilary Mantel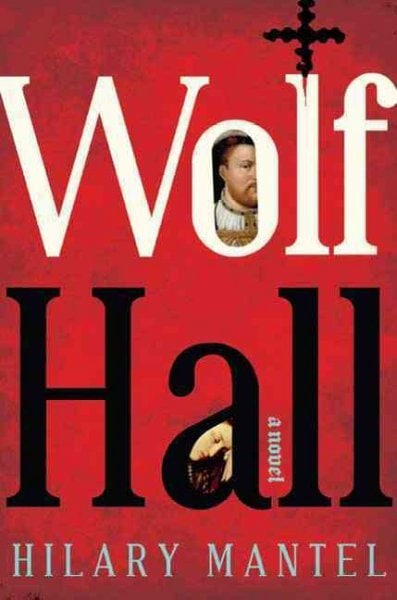 3 stars
Wolf Hall by Hilary Mantel was the second book I read in April. It is another long one, over 600 pages. It too deals with English History and is the story of King Henry VII and his first wife, Catherine of Aragon in the 1500?s. Remember this time period was a violent and brutal time and that is reflected in the story. Although I enjoyed the book from a historical standpoint I found the story somewhat difficult to follow and really had to force myself to finish it. There were way too many people named Thomas during this time period!
15. The Winter Sea by Susanna Kearsley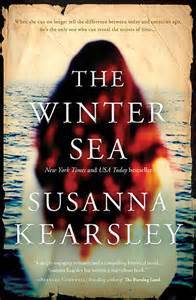 4.5 stars
I love it when I am introduced to a new author. When I find an author I like I have a tendency to read everything they wrote. Our book club read the book The Winter Sea by Susanna Kearsley in May and I loved it. It was a really enjoyable, easy read. Especially after Sarum and Wolf Hall! It is a historical fiction piece and set in the present day but goes back in time to Scotland in the early 1700?s during the Jacobite rebellion. I have now read 3 of Kearsley's books and they all are modern gothic novels that blend historical adventure and modern-day suspense with romance and a touch of something spooky. They are a nice clean read too!
16. Pillars of the Earth by Ken Follett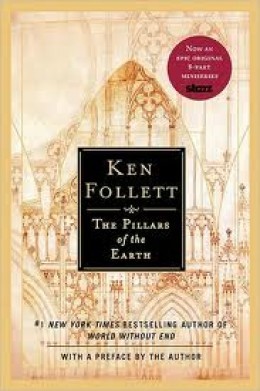 3.5 stars
Pillars of the Earth by Ken Follett is another English history novel that takes place in the twelfth-century and the story deals with the building of a mighty Gothic cathedral. Although it takes place in a fictional town, the story is based on Salisbury and the cathedral there. Please remember this was a violent and barbaric time and the story reflects that. There is some sex in the book and a rape scene. But from a historical perspective it was very interesting.
17. Bring Up The Bodies by Hilary Mantel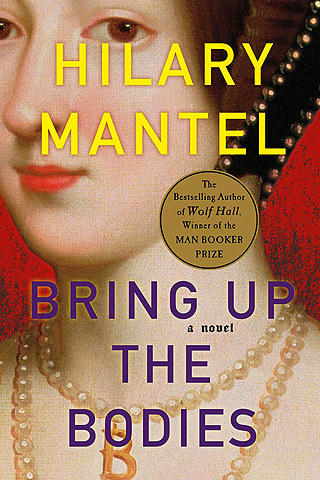 3.5 stars
I promise I will get off my English history kick soon! Bringing up the Bodies by Hilary Mantel is the sequel to Wolf Hall and deals with King Henry VII's marriage to Anne Boleyn. We all know what happens to poor Anne when she can't produce a male heir so the story ends with Anne's trip to The Tower of London from which she never returns. There are a few more wives to go so maybe there will be a few more sequels. I almost hope there aren't any sequels because I think I'm pretty much done with old Henry! I enjoyedBringing up the Bodies a bit more than Wolf Hall and the story was easier to follow. A few less Thomas' I think!
18. Palisades Park by Alan Brennert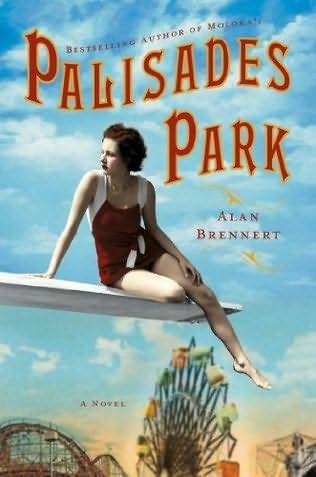 4.5 stars
I am a big fan of this author. His book Molokai was one of my favorites and I really enjoyed Honolulu too. I was excited for a new read from this author. Palisades Park doesn't take place in Hawaii like the other two (at least not the whole book) and is based on the real life Palisades Park in New Jersey during the 1930?s. The the author grew up near Palisades Park. The story takes us through the Great Depression and Pearl Harbor and a family
of dreamers who don't always have the same dream. I loved the combination of history and fiction.
19. The Shadowy Horses by Susanna Kearsley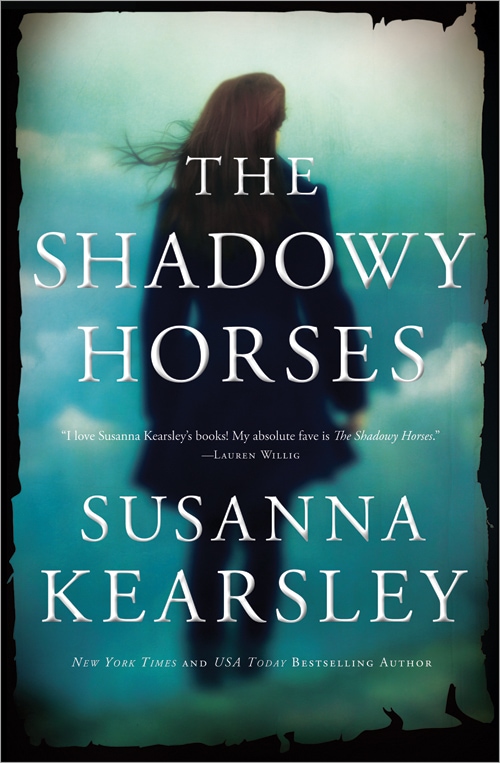 4.5 stars
This book is a sequel to The Winter Seawhich our book club read and I loved. This book also takes place in Scotland. This story is about a group of archaeologists searching for proof that Roman legions once roamed the land. I love how this author combines, history, fiction, romance and a little paranormal into one story.
20. The Art of Hearing Heartbeats by Jan Philipp-Sendker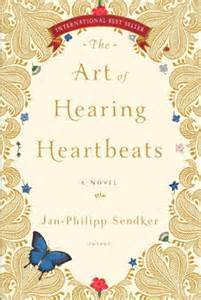 5.0 stars
This is one of my favorite books I have read this year. Not only is it beautifully written but the story is beautiful and inspirational. It is a love story that takes place in Burma and begins in the 1950?s and continues into present day. Julia's father disappears and she sets out on a quest to find him and discover his hidden story. Your belief in the power of love will be renewed after reading this story.
21. The Rose Garden by Susanna Kearsley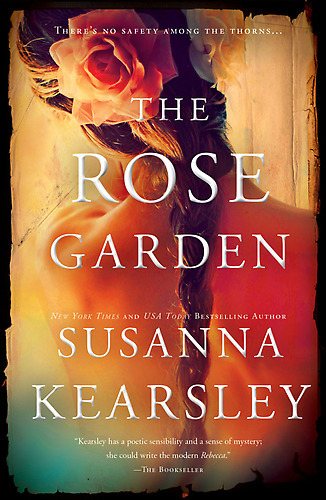 4.5 stars
When I discover an author I like I tend to read everything they have written. This is my third book by Kearsley and I enjoyed it as much as the other two. Not only did I like this one because it is historical fiction but it also involves a rose garden! How could I not love it. This story is set on the Cornish Coast and involves awoman
who is trying to confront her own ghosts and meets a few more on the way hidden in the rose garden. A story of love, importance of family and home.
22. The Last Runaway by Tracy Chevalier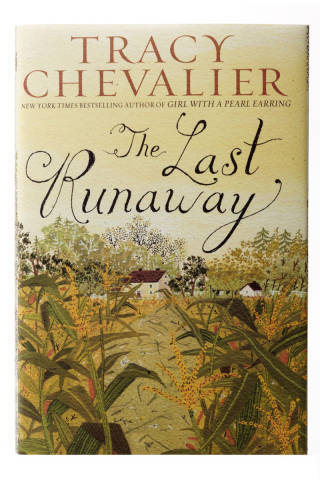 3 stars
Another historical saga that takes place during the 1850?s and deals with slavery and the underground railroad. The story is about a Quaker family and a woman named Honor who must learn to deal with her personal/religious views in regards to slavery and acting on what she believes vs. protecting her husband's family and their property.
23. The Astronaut Wives Club by Lily Koppel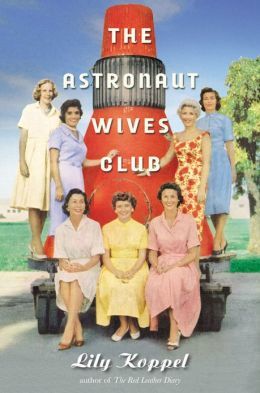 4.0 stars
This is the story of the wives of the first Mercury astronauts. What is was like to live in the shadow of their famous husbands, to have the press living in your front yard and deal with the stress of having your husband charting unknown territory in space. An interesting look at the story behind the story. As divorce and tragedy strike their bonds of friendship are fortified and strengthened.
24. Rules of Civility by Amor Towles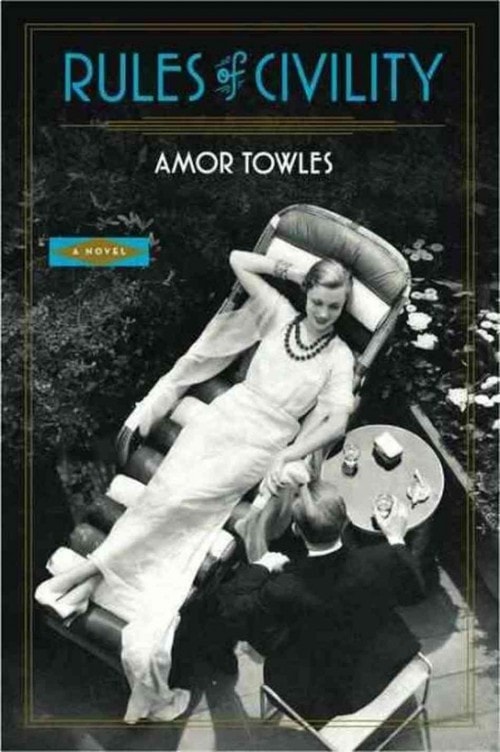 2.5 stars
This book was recommended to me as one to read if you like The Great Gatsby. I love the Great Gatsby but I didn't love this book. The book is set in New York City in 1938 and the main character Katy is a working girl in the city. She and her friend Eve embark on a journey from a Wall Street secretarial pool through the upper echelons of New York society in search of a brighter future. As I said I didn't love this book. I didn't dislike it but I didn't really like it either – just left me flat. I found the characters a bit boring despite the glamorous life they were sometimes living. Maybe I was just expecting too much.
25. The Curious Incident of the Dog in the Night Time by Mark Haddon.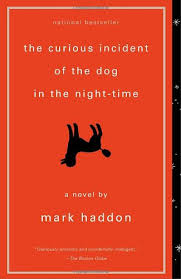 4 stars
I really enjoyed this book. The story is about a boy with autism. Tessa had seen this as play during her study abroad in London this spring and loved it. It may have been the favorite play she saw while there and she saw a lot. I have several friends with autistic children and I found this a fascinating look into the mind of someone with autism. The story is told by a 15 year old autistic boy who doesn't like to be touched. The story involves a "murder mystery" when Christopher finds the neighbors dog has been killed and he sets out to find the killer.
26. The Goose Girl by Shannon Hale.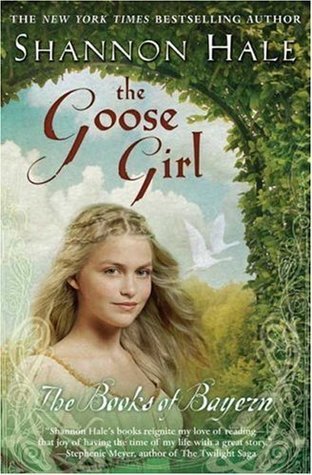 3.5 stars
Every time I ask you for a book suggestion The Goose Girl shows up on the list, more than once! This Young Adult book is based on the Grimm fairytale but with a bit of a modern and magical twist. Ani, the princess in the story has a special gift. She can talk to animals but one day she is shipped off to another kingdom to marry the prince, but along the way is overthrown by her lady-in-waiting. Ani becomes a servant, tending geese, while she searches for a way to return to the marriage and throne that is rightfully her own. This story is part of the Books of Bayern series. I haven't read any of the others.
27. Z: A Novel of Zelda Fitzgerald by Therese Anne Fowler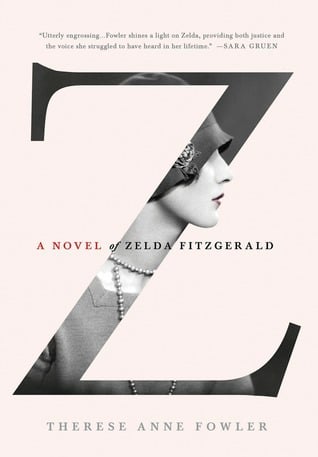 4 stars
This book continued my Great Gatsby theme. This is a piece of fictional autobiography of the life of Zelda Fitzgerald. The wife of F. Scott Fitzgerald. The character Daisy in The Great Gatsby was based on Fitzgerald's wife Zelda. I loved the look into the life of Scott and Zelda, the golden couple of the 1920?s and what was going on in their life behind the scenes of The Great Gatsby and the self destructive behavior that was happening. If you enjoyed The Paris Wife you will enjoy this book too. While the world considers The Great Gatsby the best novel ever written I loved the insights into the woman behind the book.
28. Fablehaven by Brandon Mull

29. Fablehaven: Rise of the Evening Star by Brandon Mull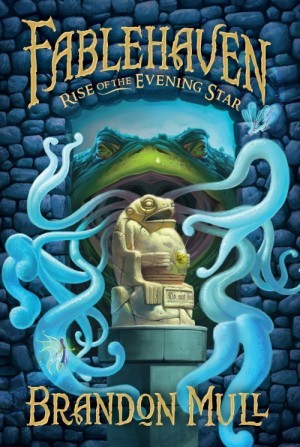 3.5 stars
This book is also YA fiction and was one that my book club decided to read. It is fantasy and not my typical genre. My book club is made up of mainly retired ladies and when they noticed their grandchildren reading this book and raving about it they decided they wanted to read it too. I read it and enjoyed it and even went on to read the second in the series but that was enough for me. I actually had a hard time finishing the second one. The story is of two children whose grandfather is the caretaker of Fablehaven, a land of greedy trolls, mischievous satyrs, plotting witches, spiteful imps, and jealous fairies. The story is of their adventures and what happens when rules get broken. There are some good life lessons to be learned in the stories. So if you enjoy this genre of book, as many in my book club do, you will love the series.
30. Private Patient by P.D. James.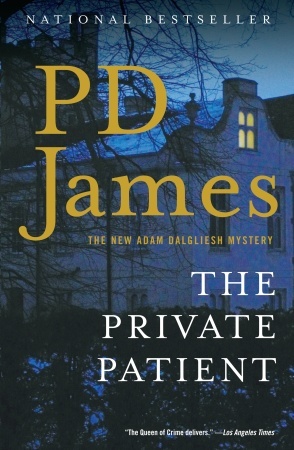 4.0 stars
This book was recommended to me by a friend who is a ferocious reader. It is a British murder mystery and I loved it. I use to read a lot of murder mystery and was a big Agatha Christie fan in my youth! The Private Patient involves an investigative reporter who is killed after having plastic surgery. Commander Dalgliesh and his team are called in to investigate a case complicated by old crimes and the dark secrets of the past. Fun read and I look forward to reading more P.D. James books.
31. The Silver Star by Jeanette Walls.
3.5 stars
Walls has also written The Glass Castle which I enjoyed. Unlike the memoir, The Glass Castle, this book is a work of fiction. It is the story of Bean and her sister Liz whose mother abandons them and they are left to live with their eccentric uncle. Bean and her sister learn to coexist with their uncle and deal with the challenges and injustices of the real world. A well told story and a fairly quick read.
32. Mariana by Susanna Kearsley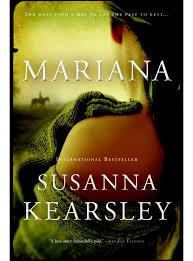 4.5 stars
I continued on my Susanna Kearsley phase in October. I have enjoyed everyone of her books so much. She writes in my favorite genre, historical fiction with a bit of romance and mysticism thrown in. So fun
! I pretty much loved everything about this book. I think I have just about read all of her books and I wish there were more! I love it when I find an author I adore and then read everything they wrote.
33. Firebird by Susanna Kearsley.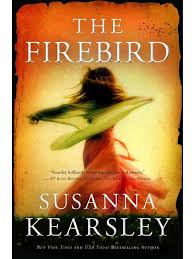 4.5 stars
Firebird is a followup to Winter Sea that I read earlier this year and loved. If you want to read Firebird be sure to read Winter Sea first, following by The Shadowy Horses and then read Firebird.
34. The Aviator's Wife by Melanie Benjamin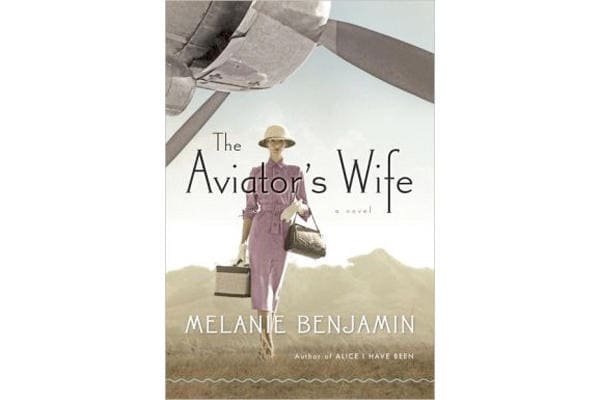 4 stars
This book is a historical novel based on the life of Anne Morrow Lindbergh. I have always been a big fan of Anne Morrow Lindbergh. She is the author of my favorite book, Gifts from the Sea. She was also married to famous pilot Charles Lindbergh. The author says, " It's time for Anne to step out from behind her husband's shadow once and for all and be the heroine in her own epic story." I am a big history and biography fan also so I really enjoyed this book. Some interesting insights into the life of both Anne and Charles Lindbergh and what it was like to be married to one of the greatest heroes of all time. Not an easy job!
35. The Book Thief by Markus Zukas.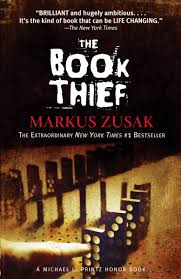 5 stars
I LOVE this book. This is actually the second time I have read it. I reread it in anticipation of going to see the movie. I enjoyed the movie but I loved the book.It is beautifully written and I love the character of death and the beautiful pictures he paints with his words. I am a big WWII era fan which is when this book takes place. If you have not read this book, please do! The book is listed as a young adult book but every adult should read it too. I will probably read this book a third time.
36. The All Girls Filling Station Reunion by Fannie Flagg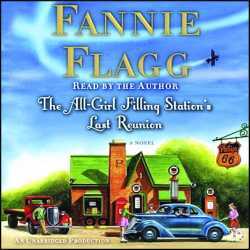 .
3.5 stars
I am a fan of Fannie Flagg and have read most of her other books. They are nice light, entertaining
reads that will make you smile and laugh! I also enjoyed the historical aspect that is part of the storyline too.
That's my list for 2013. I would love to know what your favorite read of 2013 was!