Today I want to share with you my list of 2010 Books Read.  I am one of those silly people that keep a list of all the books they read.  I have done so since 1998.  I mainly do it because my memory is going and when someone asks me for a book recommendation or what I've read lately I usually have to consult the list!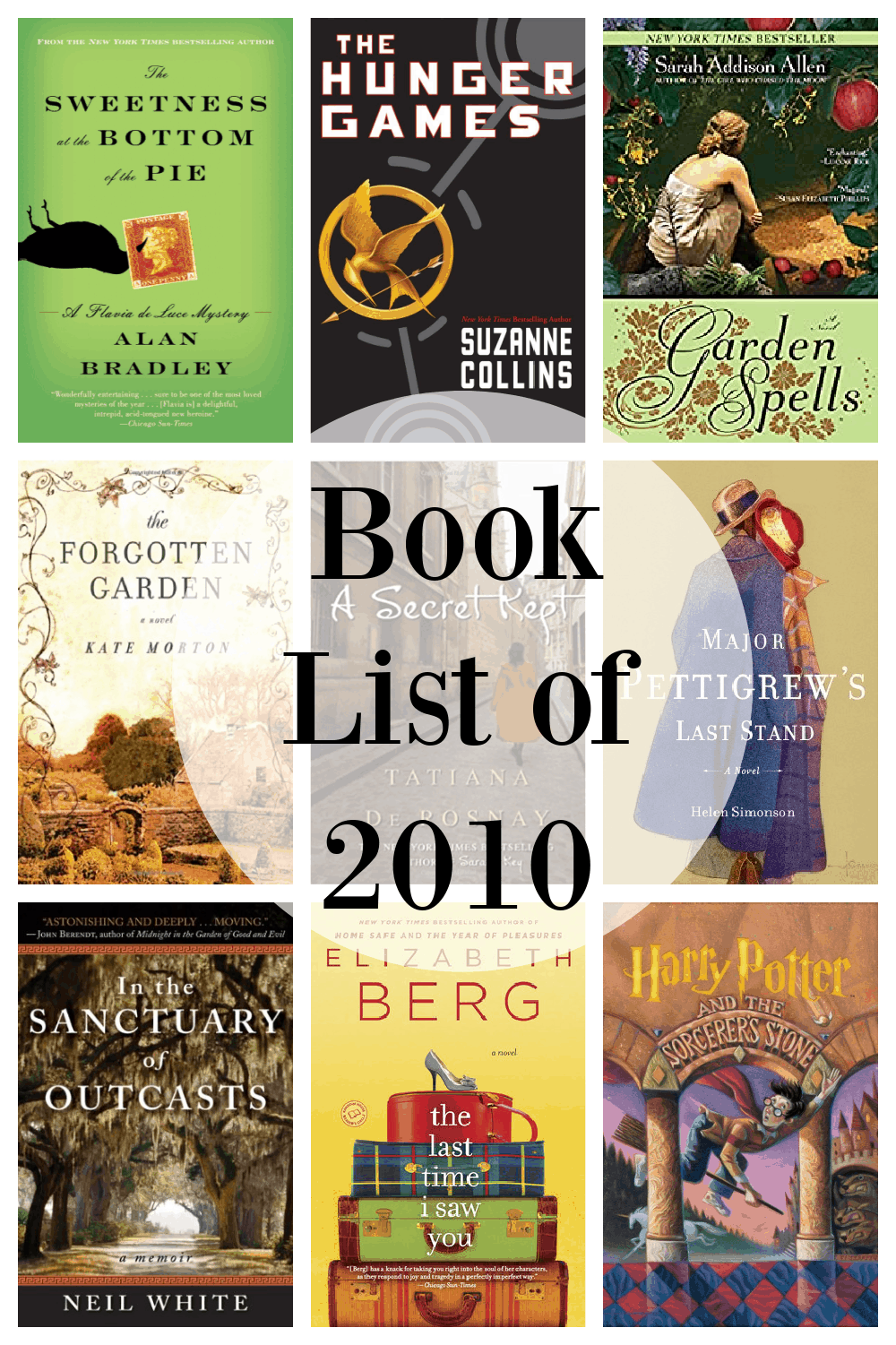 Before I share the list though I want to make a disclaimer.
Just because I read the book doesn't necessarily mean I recommend it. This year I have decided to keep a rating system along with the list of books I have read (one star, two star etc.) but for 2010 year you just get the list. So I highly recommend that you consult this great site – Rated Reads before you read the book to make sure it is something you want to read.
Using movie ratings, the books on this list range from G rated to PG13. We need to take personal responsibility for what we read and watch and we all have different standards so please be sure and check things out. Although the majority of what I read I would consider rated PG there may a few books that I have read that don't meet with your personal standards so please be a responsible reader. I don't want to offend anyone.
Honestly – I can't say there was any one book I read in 2010 that really WOWED me. I liked a lot of them. I really enjoyed the Hunger Games series especially since I didn't think I would and didn't really want to read them. They were a pleasant surprise.
In the Sanctuary of Outcasts was a definite favorite. It is a memoir based on a writer who lived in a combination leper hospital/prison in the South.
I have given into pressure from my children and have promised to read the entire Harry Potter series. (I had only ever read the first one when it initially came out) I am enjoying them much more than I expected too!
I am often asked how I have so much time to read. 53 books this year. First, I am a fast reader. I tell my children that comes from reading a lot my whole life – the more you read, the faster you get. Second, I read a lot in the car. Actually, I listen to a lot of books on CD while I'm driving around on daily basis. It's amazing how much you can get done. I listened to the entire C.S. Lewis Chronicles of Narnia in the car and I am also reading Harry Potter that way!
As always, I love hearing what you have been reading. Please leave a comment and let me know. Did you have a favorite book for 2010?
So enjoy the list!
The Hunger Games – Suzanne Collins (Book Club Read)
Wuthering Heights – Emily Bronte
Trudy's Promise- Marcia Preston
84 Charing Cross Road – Helene Hanff
In the Sanctuary of Outcasts – Neil White
Remember Me – Sophie Kinsella
Q's Legacy – Helene Hanff
The Duchess of Bloomsbury Street – Helene Hanff
My Abandonment – Peter Rock (Book Club read)
The Sweetness at the Bottom of the Pie – Alan Bradley
Catching Fire by Suzanne Collins
Prayers for Sale – Sandra Dallas
Saving Cee Cee Honeycutt – Beth Hoffman
Noah's Compass – Anne Tyler
Brava Valentine – Adrianna Trigianni
The Forgotten Garden –Kate Morton
Coco Chanel and Igor Stravinsky –Chris Greenhalgh
Cold Sassy Tree – Olive Ann Burns
Princess Bride – William Goldman (Book Club Read)
The Ladies Auxiliary – Tova Mirvis
The Same Kind of Different as Me – Ron Hall and Denver Moore
The Postmistress – Sarah Blake
The Lion, Witch and the Wardrobe – C.S. Lewis
Prince Caspian – C.S. Lewis
The Voyage of the Dawn Treader – C.S. Lewis
The Silver Chair – C.S. Lewis
The Horse and His Boy – C.S. Lewis
The Magician's Nephew – C.S. Lewis
The Last Battle – C.S. Lewis
The Particular Sadness of Lemon Cake – Aimee Bender
The Second Short Life of Bree Tanner – Stephanie Meyer
The Moonflower Vine – Jetta Carleton
Garden Spells – Sarah Addison Allen
Girl in Translation – Jean Kwok
Dairy Queen – Catherine Gilbert Murdock ( YA Fiction -Book Club Read)
The Last Time I Saw You – Elizabeth Berg
The Sugar Queen – Sarah Addison Allen
The Girl Who Chased the Moon – Sarah Addison Allen
Making Toast – Roger Rosenblatt
Olive's Ocean – Kevin Henkes (YA fiction)
Mockingjay – Suzanne Collins
The Crowning Glory of Calla Lily Ponder – Rebecca Wells
The Wednesday Sisters – Meg Waite Clayton
Why now is the time to CRUSH IT! Cash in on your Passion – Gary Vaynerchuk
A Second Journey – Joan Anderson
Major Pettigrew's Last Stand – Helen Simonson
I Feel Bad About my Neck – Nora Ephron
The Elegance of the Hedgehog -Muriel Barbery
A Secret Kept – Tatiana de Rosnay
Mennonite in a little black dress: a memoir of going home – Rhoda Janzen
Making it All Work – David Allen
Harry Potter Chamber of Secrets – JK Rowling
Harry Potter Prisoner of Askaban – JK Rowling
Harry Potter and the Sorcerer's Stone – JK Rowling