A list of everything I read in 2008!
At the beginning of the year I shared with you that one of my 2008 goals had been to read 100 books in 2008.  A rather lofty goal as in 2007 I had only read 28.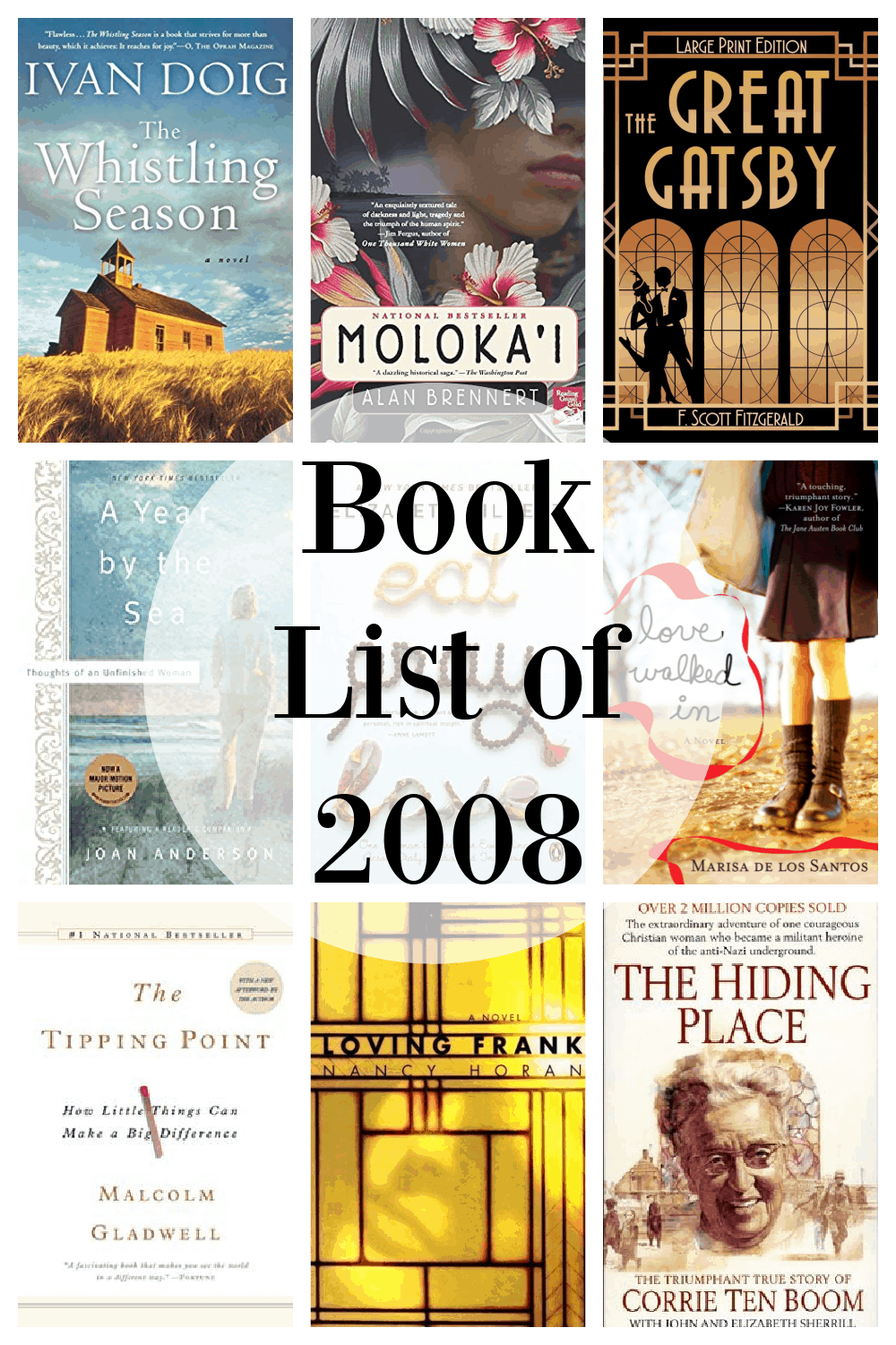 As you know, I didn't make my 2008 goal but I did read 31. I have revamped my goal for 2009 to 50 books. Hopefully a little more doable but still a push!
I figured I would need to read at least 4 books a month with a couple of extra thrown in somewhere. As an update – I did read 4 in January and think I will make 4 in February too!
I have been wanting to share the list of books I read in 2008 with you for a while now but just kept finding other things to post about instead but today you are getting the list.
So here is the list – in order read. I have to say that my favorite book of 2008 was the first one I read – Molokai. My friend Jody had recommended it, her book club read it. I read it, loved it and presented it at my Book Club.
I am a huge historical fiction fan and this book was perfect. It was fascinating learning about the Leper Colony in Hawaii and the history of leprosy.
So what was your favorite read in 2008 – please leave a comment and let me know!
Molokai by Alan Brennert
The Tipping Point by Malcolm Gladwell
The Great Gatsby by F. Scott Fitzgerald – my feeble attempt at reading some classics
Blink by Malcolm Gladwell
Freakonomics by Levitta Dubner
A Year by the Sea by Joan Anderson – another favorite
Love Walked In by Marisa de los Santos
Belong to Me (the sequel to Love Walked In) by Marisa de los Santos
The Whistling Season by Ivan Doig – another Book Club read that I really enjoyed
An Unfinished Marriage by Joan Anderson
Eat, Pray Love by Elizabeth Gilbert
The Hiding Place by Corrie Ten Boom – a re-read that I loved as much this time as the first 3 times!
7 Habits of Effective People by Stephen Covey – another re-read
Three Cups of Tea by Greg Mortenson
The Holy Secret by James Ferrell
The Miracle at Speedy Motors by Alexander McCall Smith – another fun read in the Ladies Detective Agency series
Just Who Will You Be by Maria Shriver – a fast read
A Short Guide to a Happy Life by Anna Quindlen
Being Perfect by Anna Quindlen
When the Emperor Was Divine by Julie Otsuka – about a Japanese Internment Camp
Breaking Dawn by Stephanie Meyer
Eclipse by Stephanie Meyer
Loving Frank by Nancy Horan – enjoyed this book about Frank Lloyd Wright's love affair
A Walk on the Beach by Joan Anderson
Uglies by Scott Westerfeld – YA fiction we listened to in the car on the way to take Cali to college – enjoyed by all!
Guernsey Literary and Potato Peel Pie Society by Annie Barrows – loved this book. Our Book Club also read it.
Distant Shores by Kristin Hannah. Takes place at the Oregon Coast.
The Book Thief by Markus Zusak – another historical fiction that takes place during WWII – YA Fiction. Loved it!
How to be Lovely by Melissa Hellstern – about Audrey Hepburn
An Elegant Spirit, A Son Remembers by Sean Hepburn Ferrer – I got on a little bit of an Audrey Hepburn kick!
The Second Journey by Joan Anderson
and I ended 2008 with
John Adams by David McCullough – I love history!
So out of all the books you read in 2008 – what was your favorite? Let me know by leaving a comment – thanks!
What are some of the first books you are reading in 2009?
Happy reading in 2009