I am not much for bumper stickers but this is one bumper sticker I am proud to put on my car!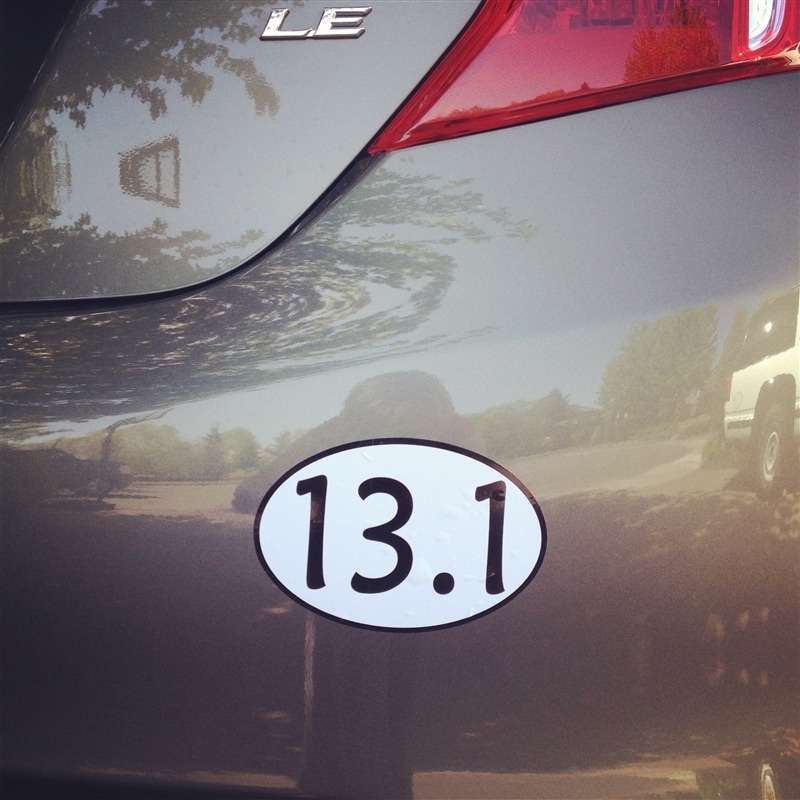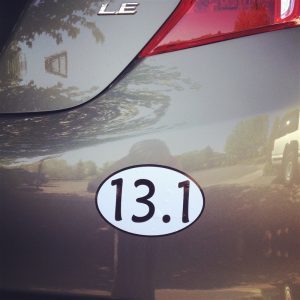 I woke up this morning to this fun sign outside my bedroom door and to the Rocky theme blasting thanks to my thoughtful husband and cheerleader.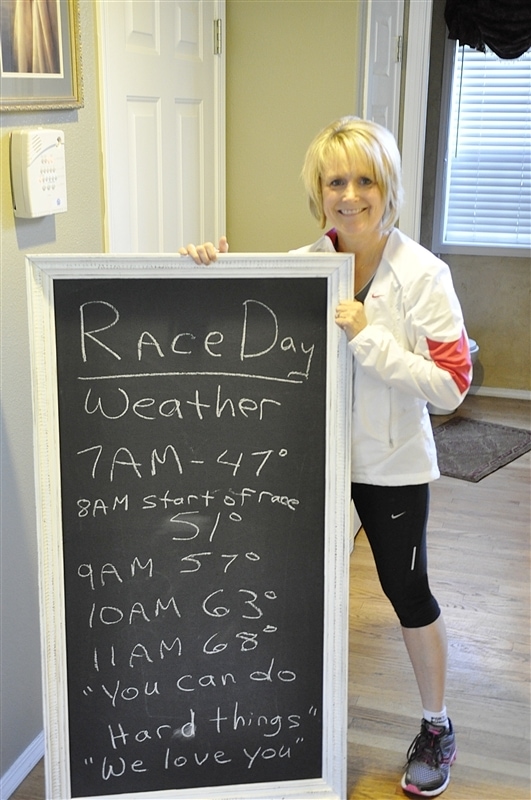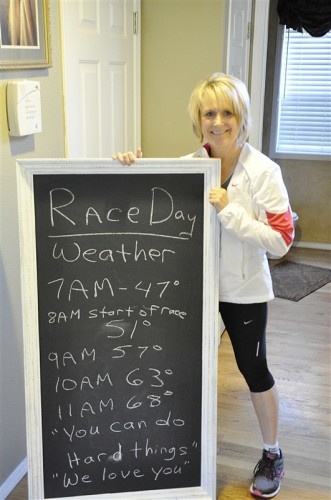 I am moving a little bit slower today and taking a few Motrin but I did it, rather I need to say WE did it.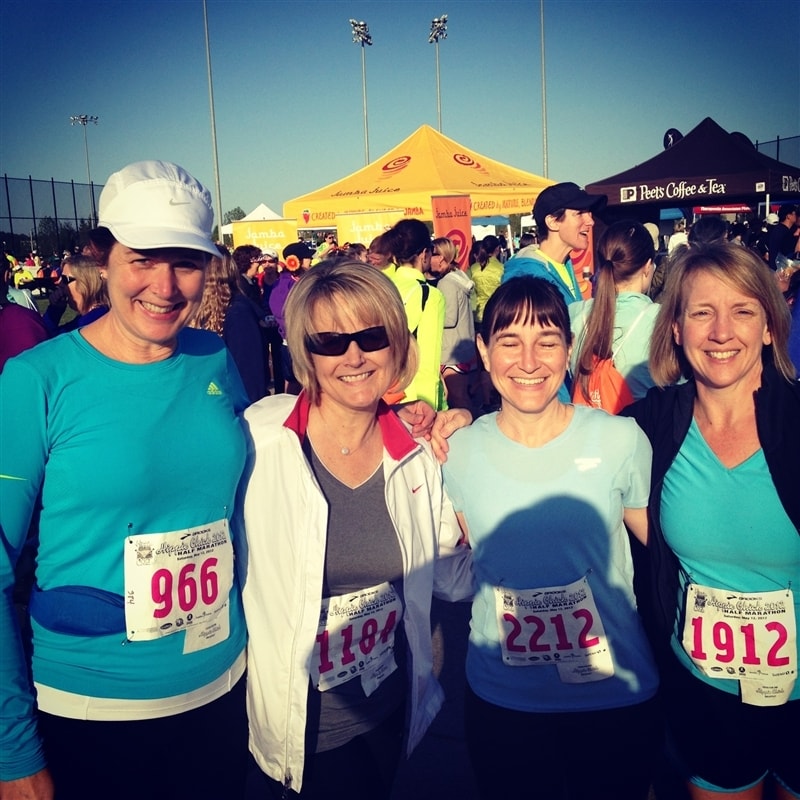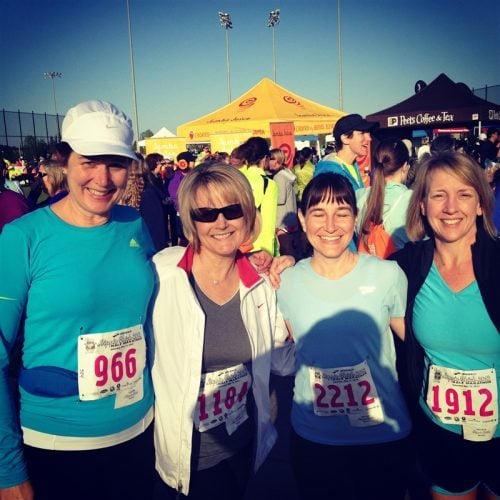 Our friends Anne and Lynette are a bit faster than we are so they took off ahead but my friend Marsha and I hung together the whole race.
It was fun and exciting to be a part of a group of 3,500 women all with the same goal – to finish.  O.K., some of them probably had a goal to finish in a certain time but ours was definitely to finish.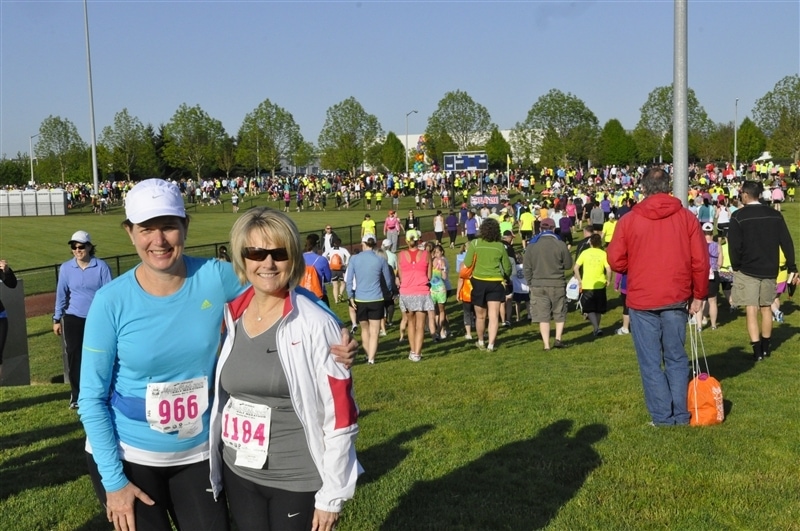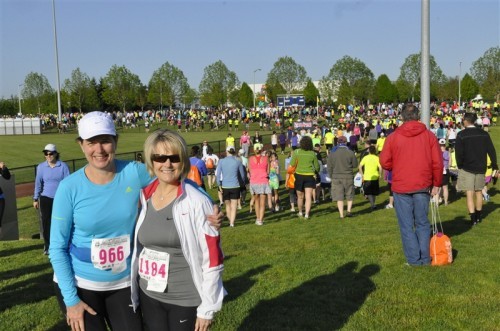 We started out under the big balloon arch – can you see us there?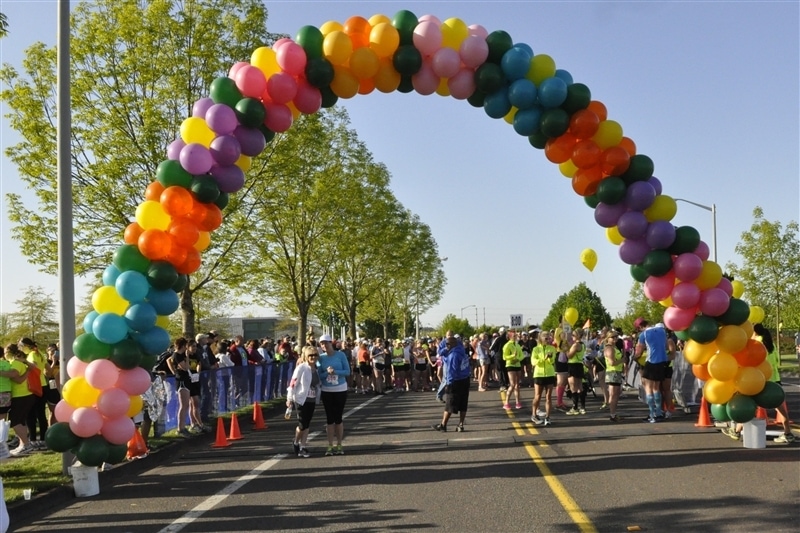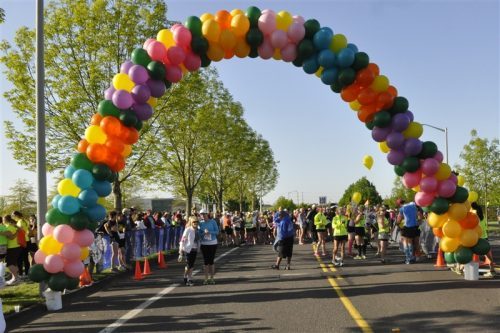 Our husbands and Tessa were there to cheer us as we started off.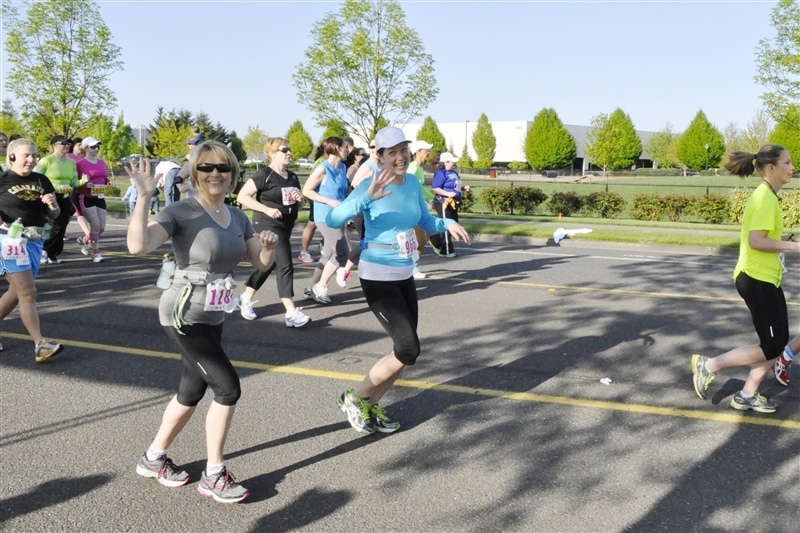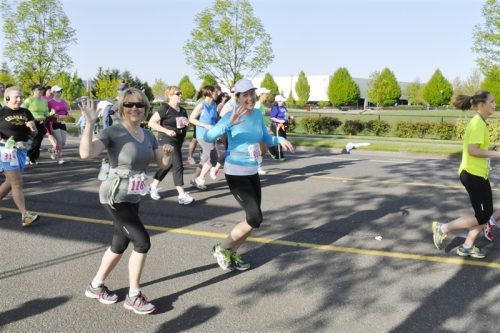 And Jim even showed up along the route to snap a few pictures.  He brought a sign to cheer us on!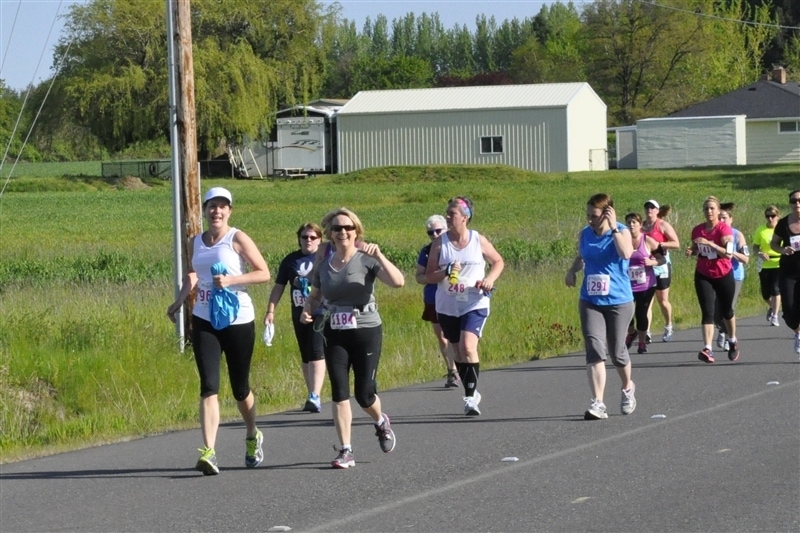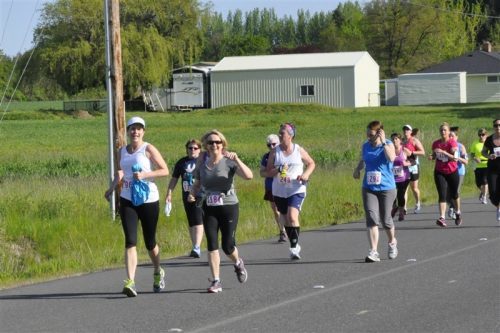 Marsha had only planned on running the 1/4 marathon and then walking the rest of the way but she hung in there with me and we did it together.  I was so proud of her and so grateful to cross the finish line with her.  Along with Jim, she has been my cheerleader through this whole experience and I loved being able to share it with her.
I work hard in life to enjoy the journey and I did enjoy the race – it was a perfect weather day.  Sun, not too warm, a nice gentle breeze, beautiful countryside to run through, and a good friend to do it with.  But I have to admit that I really enjoyed the thrill of finishing.  As we entered the stadium where the race ended, I heard them announce my name and as I ran through the finish arch it felt great to finish!  The satisfaction that comes with finishing something you started, finishing something you weren't sure you could really do is pretty amazing.

It's not so important who starts the game but who finishes it.
John Wooden
Rounding the bend of the finish line!  I think my favorite part of the whole race was as we were about to enter the stadium Marsha yelled to a man standing on the side cheering the runners on – "104 years here!! "  Our ages combined!  Loved it.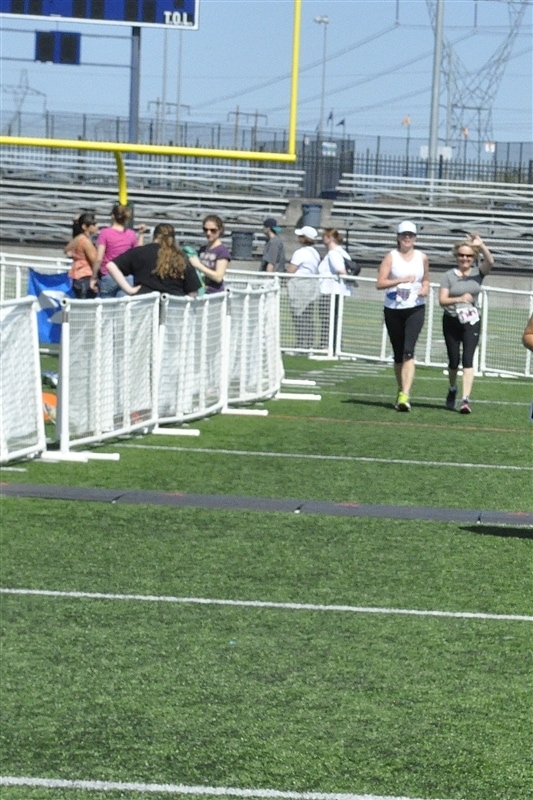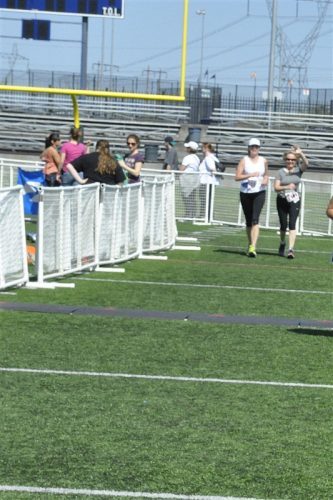 Not such a lovely picture but hey – we did it!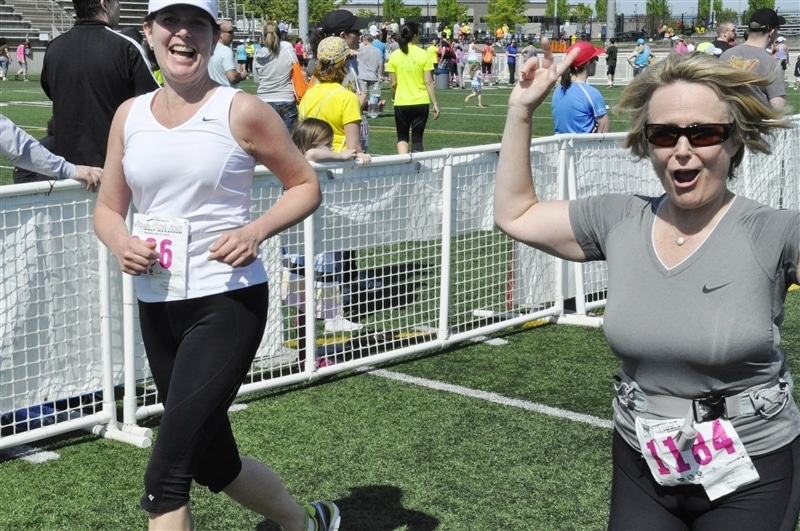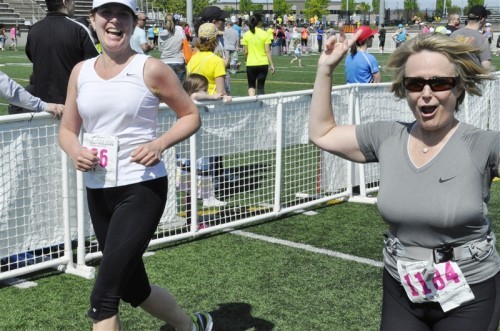 And then our sweet husbands and Tessa were there to meet us at the finish line.  Tessa even brought me flowers to celebrate running a half marathon!!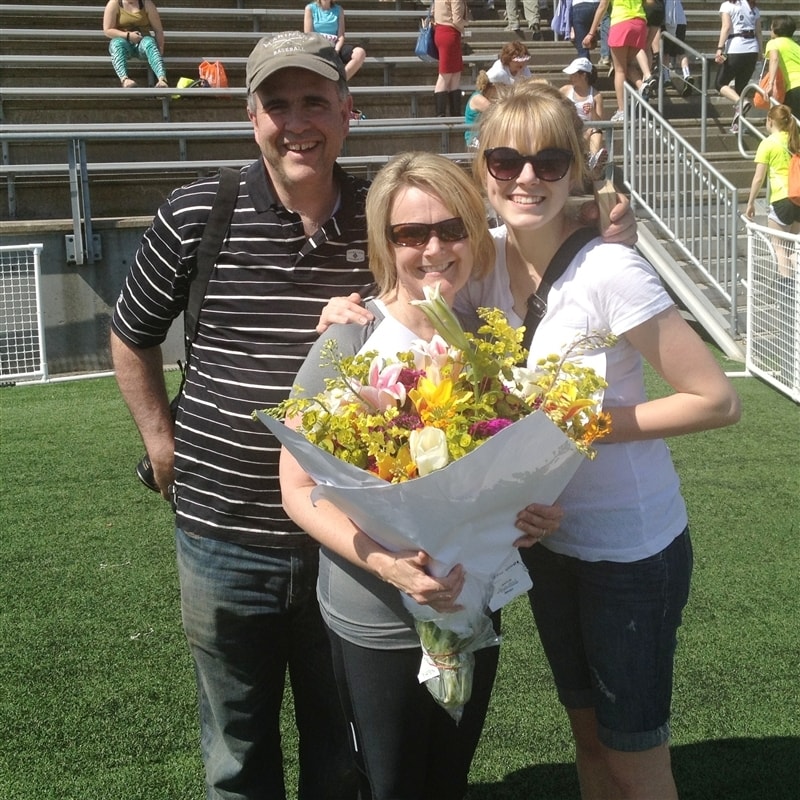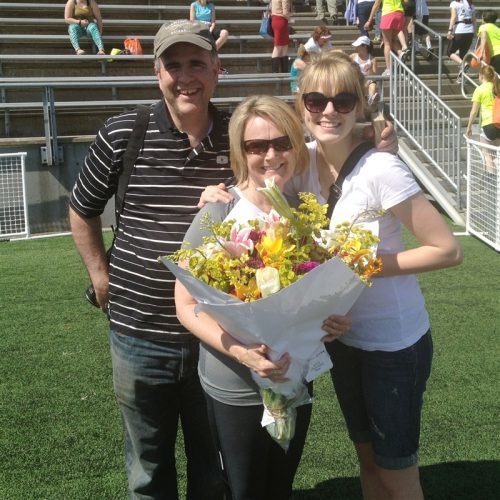 We did it and it was even more fun and fulfilling to do it with my friend. Thanks Marsha!!
We can do hard things has been our mantra through this whole journey.  And we can!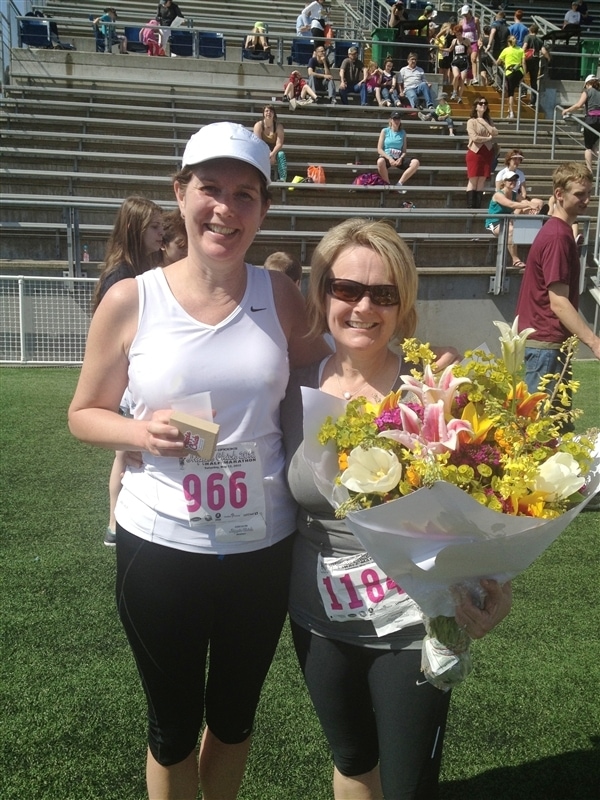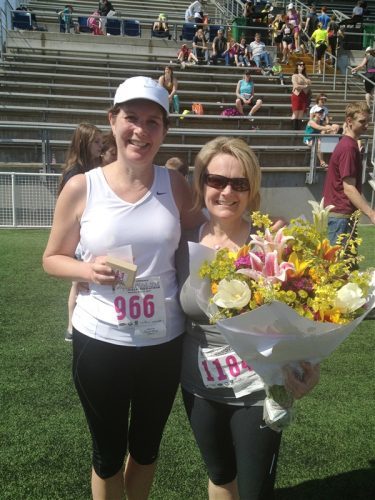 On the way home in the car I asked Jim – so what's my next goal?  Need to think about that one.
Get my Weekly Menu Plan for FREE!
Receive my FREE "What's for Dinner?" Meal Planning Course, a copy of my FREE ebook that includes my most popular recipes and my FREE weekly Meal Plan.