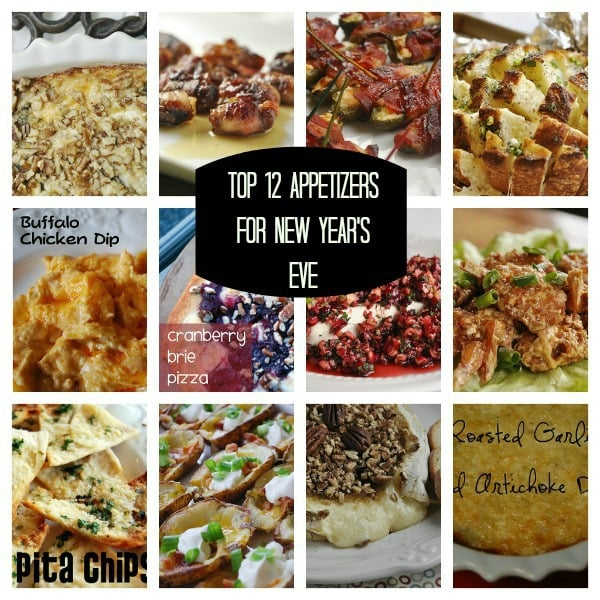 I hope you are all enjoying a wonderful holiday break.  We are packing in as much fun as we can at our house but I wanted to pop into the blog today to share with you a list of some of my 12 top appetizers for New Year's Eve.
How are you celebrating the big night?  We'll be enjoying some of these yummy dishes!
   Spinach Artichoke Dip with Pecans
  I love a good artichoke dip and I have several different recipes I use on a regular basis.  I love this one because it also uses spinach and chopped pecans.  I love the texture of the pecans in the dip!  Slice up a nice baguette and you are good to go!
   Bacon Wrapped Dates with Maple Syrup Drizzle
 I didn't think I liked dates until I had one of these!  They are amazing.  Just like eating candy.
  The men love these poppers!  I think they would love anything wrapped in bacon and covered in BBQ sauce.
 This Bloomin' Onion bread made an appearance at our Christmas Eve celebration and then it disappeared!  Quickly.  I think I could eat this entire thing myself!  Bread covered in cheese, butter and green onions!
This is appetizer is also for the men in the crowd and those who like a little bit of heat.
Brie and cranberry are a wonderful combination.  Add some chopped pecans and you've got a little piece of heaven.
 I think this was my favorite new appetizer last year.  I made it over and over again.  The combination of cranberries and cilantro is unusual but oh so good! Serve it over cream cheese with crackers.
 Firecracker Shrimp
This is another appetizer that always seems to disappear first whenever I serve it.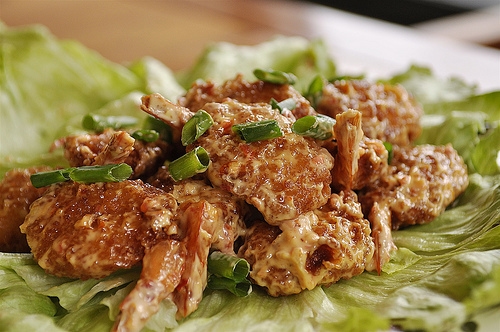 Pita Chips are great by themselves or served with your favorite dip.  I love to serve them with hummus.
 Christmas Eve wouldn't be Christmas Eve at our house without potato skins.  They would also make a great addition to any New Year's celebration.
 I love the combination of brie with something sweet and this brown sugar brie is just the ticket.  It is topped with chopped pecans.
 Roasted Garlic and Artichoke Dip.
This still may be my favorite appetizer of all times.  I have made this for years and love it!  The secret ingredient is the roasted garlic.  Don't skip on that part.
Happy New Years!
Enjoy!
Leigh Anne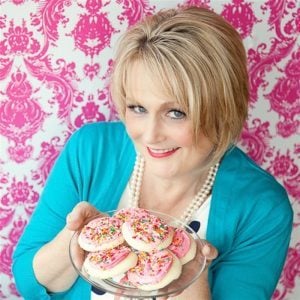 You can also visit me on Facebook, Pinterest, Twitter or Instagram.
Shared at:  Thirty Handmade Days**Kitchen Fun and Crafty Friday * Desgin, Dining and Diapers

Stay Updated!
Need more recipes and creative ideas? Sign up and get a FREE copy of my ebook! Do you think your friends would love this too? Please share my blog with them. Thanks!