When it comes to pasta and Italian dishes I am a little bit of a plain jane.  I am not a big fan of cream sauces and given the choice I will always choose a basic meat sauce or bolognese sauce.  One of my favorite comfort meals is Spaghetti with meat sauce that I have shared on the blog before.  I think it is pretty much the best!
One of the tricks to a really good meat sauce is letting it cook and simmer for a long time.  The longer it simmers, the thicker and richer the sauce gets.  The one down side to that is you need to be home while it is cooking.  I am not a fan of leaving my gas range going and not being there.  So on the days when I'm craving a good bolognese sauce but I'm not going to be around most of the day to keep an eye on it and give it a stir this slow cooker version is perfect!
Unlike my other meat sauce recipe this one has a few yummy additions – bacon , carrots and celery.  I start out by sauteing the veggies in some butter.
Add in the hamburger that has been browned and some crisp bacon.
All of these gets put in the slow cooker with some crushed canned tomatoes and seasoning and then you  just let it cook on low for about 6 hours!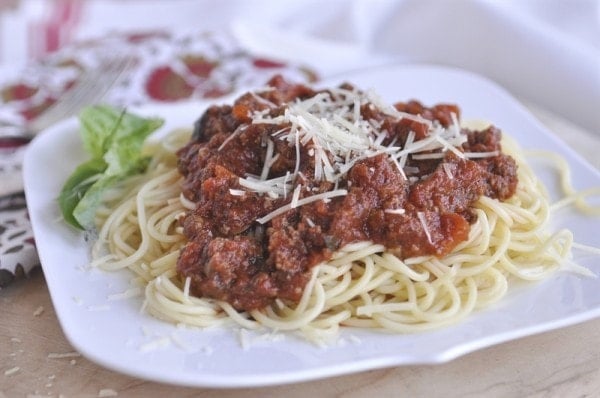 The sauce thickens and the flavors meld together for a yummy plate of pure comfort food!

The recipe was adapted from one I originally found at Skinny Taste.
For other pasta dishes try these:
Penne with Spinach and Chicken Sausage
Slow Cooker Bolognese Sauce
Serves:
approx. 6 cups of sauce
Ingredients
4 strips bacon, cooked crisp and crumbled
1 Tbsp butter
½ yellow onion, diced
1 C celery, diced
1 C carrot, diced
1½ lbs. lean ground beaf
2 - 28 oz. cans crushed tomatoes
1 Tbsp dried parsley
1 tsp dried oregano
1 tsp dried basil
salt and pepper to taste
Instructions
Saute vegetables in butter for about 5 minutes.
In another pan brown hamburger
Cook bacon until crisp and crumble
Add everything into slow cooker
Add tomatoes and seasonings.
Cook on low for 6 hours
Enjoy!
Leigh Anne
You can also visit me on Facebook, Pinterest, Twitter, Instagram
and Google+
For a list of where I Link Up each week go here